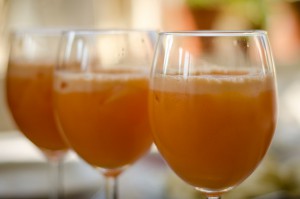 From Faith: All we did was ask our resident cocktail guy Anthony DeSerio to focus on fresh fruits and vegetables as mixers for drinks, and he started blazing a delicious trail for us all. We see chefs and bartenders collaborating more and more, the restaurant kitchen providing fresh veggie or fruit juices, though some bartenders are buying these pre-packaged from suppliers. In the end, the question is, does the taste of a cocktail excite you? We think this one will, and not only because it's calorie-friendly; this tastes terrific. Sure, you could throw all the ingredients — real carrots and an apple — into a blender, but we know it's a lot faster to buy carrot juice in the produce section at the supermarket or health food store. Once again, you can use any spirit you have hanging around, such as rum, vodka, or tequila, though Anthony used spiced Sailor Jerry rum in his drink.

Add ginger and cinnamon to the bottom of a large jar or cocktail shaker with a lid. Press with the back of a spoon and let it sit, muddling, for a couple of minutes.

Add to the muddled mixture the rum (or your favorite spirit), the carrot juice, and the apple juice or cider. Add ice. Shake well to be sure the spice is well mixed into the liquids. Taste it to see if it needs a little more of anything. Strain into a cocktail glass filled with ice, sit back and enjoy, thinking of Spring.