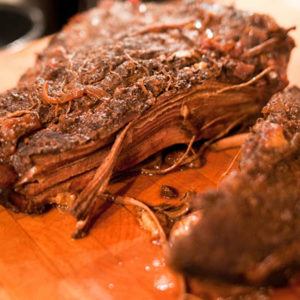 This recipe, originally created by one of Chris Prosperi's best friends, has two unexpected ingredients: a can of Coke and a package of Lipton Beef Onion Soup Mix. If you're skeptical, just keep in mind that Lee White (that best friend) served it to the great Jacques Pepin. Jacques's only suggestion was to reduce the braising liquid down to make it more concentrated. Chris did that here and added a little corn starch to make a thickened sauce to pour over the brisket when served. Faith loves it too!
ON-DEMAND: Listen to the New Year's Eve Food Schmooze® where Faith and the gang discuss food trends, this ah-mazing brisket, and much more.
Photo: Sandor Weisz/Flickr, creative commons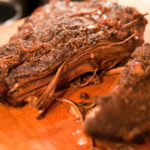 Place brisket in slow cooker and coat with 1 package soup mix. Top with diced onion and button mushrooms. Carefully pour in 2 cups of cola and cover with parchment paper. Place lid on slow cooker and set to low. Cook for 8-10 hours and remove brisket to cutting board.

Pour braising liquid in a sauce pot and reduce by 1/2. Slice brisket and top with mushroom and onions from reduced braising liquid. Pour remaining liquid in a gravy pitcher and serve on the side.