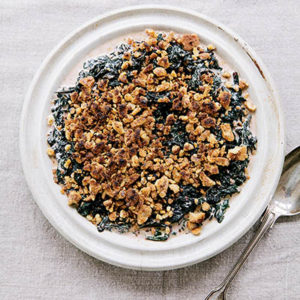 I love the contrasting textures and flavors of this earthy combination: the silky chard and crunchy topping, the creamy sauce and hearty greens. This vitamin-rich side dish tastes even better on the second day, so make it in advance and then reheat it, covered, in a 325° oven for 25 to 30 minutes.
Recipe and text by Amy Traverso. Excerpted from Yankee magazine. Photo by Elizabeth Cecil, Food & Prop Styling by Molly Shuster.
ON-DEMAND: Listen to Faith and Amy talk about this recipe as well as Amy's festive Pear, Walnut, and Gorgonzola Puffs (made with puff pastry!) from the magazine on The Faith Middleton Food Schmooze.

In the bowl of a food processor, pulse the bread chunks until they break down into roughly 1/2-inch pieces. Add the walnuts and process until the mixture takes on the appearance of a crumb topping. Add the garlic, salt, and nutmeg and pulse 4 or five times to blend. Set aside.

Set a large pot of water over high heat and bring to a boil. Meanwhile, prepare your chard. The quickest way to break it down is to grab each leaf by the thick stem with one hand, then pull your other hand along the stem, tearing off the tender leaves as you go. You can leave any smaller leaves with fine stems alone. Roughly chop the trimmed leaves into 2- to 3-inch pieces, then rinse thoroughly and drain (a salad spinner is very useful here—work in batches). Boil the leaves until tender, about 2 minutes, then transfer to a colander to drain further.

Finish the topping: set a large skillet over medium heat and add the olive oil and 1 tablespoon butter. When the butter is melted, add the bread crumb mixture and cook, stirring often, until browned and crisp, 3 to 5 minutes. Transfer the mixture to a bowl and wipe out the skillet.

Preheat your broiler and set a rack so that the food is about 3 inches from the heat. Melt the 2 tablespoons butter in the skillet over medium heat. When it stops foaming, add the garlic and stir until fragrant, about 30 seconds. Press out excess water from the chard in the colander, then transfer to the skillet with the salt and pepper. Cook, stirring and breaking up the chard. Add the cream and Parmesan and bring to a simmer over medium-high heat. The chard will continue to release some moisture. After 4 minutes, transfer the chard to a 2-quart baking dish using tongs or a slotted spoon. Continue simmering the cream sauce until thickened, 3 to 4 minutes, then pour over the chard. Top with the walnut mixture and run under the broiler until nicely browned, about 1 minute.