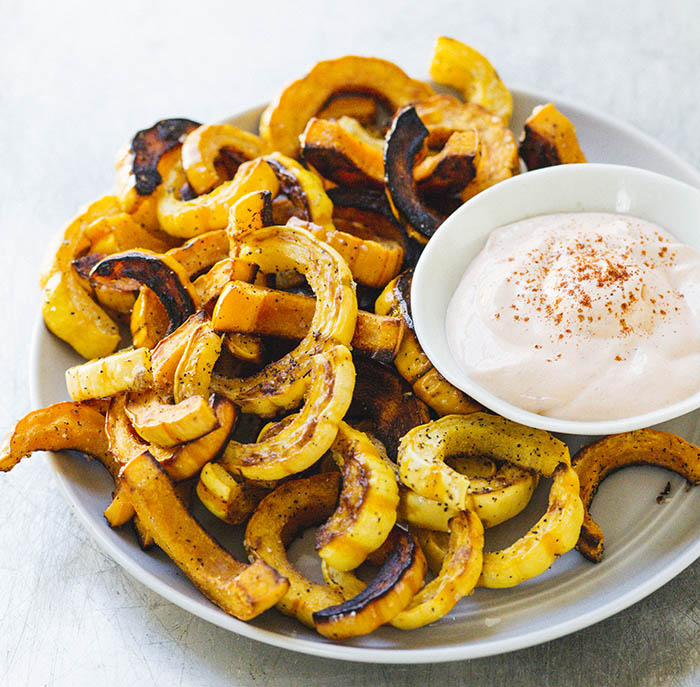 He caught my eye at the winter farmers' market, a gruff farmer surrounded by hundreds of squashes of every size and color, from enormous blue-gray Hubbards to modest buttercups. The Squash Guy, I dubbed him, and it was he who taught me about delicate squash: a slender, yellow squash with green and orange stripes. In fact, he slipped me a few of this new squash so I couldreport back my opinion. I was easily smitten with the variety: since the skin is edible and it roasts fairly quickly, it's simple to prepare—and the taste is sweet and tender. Our best-loved way to eat delicata squash is as fries: roasted half-moon slices that both the kids and adults in our lives rave over. Since the writing of this book, the Squash Guy has sold his Indiana farm and moved on, but he'll always have my heart for the kindness he showed this city girl
—Sonja Overhiser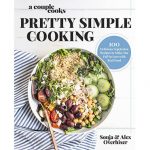 Excerpted from A Couple Cooks | Pretty Simple Cooking: 100 Delicious Vegetarian Recipes to Make You Fall in Love with Real Food by Sonja and Alex Overhiser. Copyright © 2018. Available from Da Capo Lifelong Books, an imprint of Perseus Books, LLC, a subsidiary of Hachette Book Group, Inc.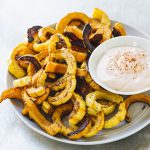 Preheat the oven to 450°F.

Roast the squash: Wash the squash. Cut in half lengthwise and scoop out the seeds. Slice into half-moons, about 1/4- to 1/2-inch thick. Place the slices in a bowl and drizzle with olive oil. Add the kosher salt and black pepper and stir to combine.

Line a baking sheet with parchment paper or a silicone mat; place the squash slices on the sheet in a single layer. Roast until tender and slightly browned, about 25 to 30 minutes, depending on the thickness.

Make the sauce: In a small bowl, mix the sour cream, Mexican hot sauce, soy sauce, garlic powder, and dill. Cool the fries for 2 to 3 minutes before serving; serve warm with dipping sauce.