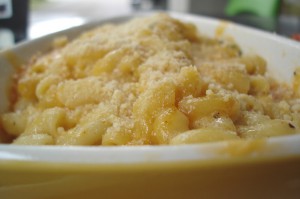 If you are like me, you probably have an entire refrigerator drawer designated just for cheese. And with the enormous selection of cheeses available today from most supermarkets, your drawer is probably filled with everything from Emmental Swiss to Maytag blue, in various stages of consumption.
Here's a trick I learned from Jacques Pepin, to use all those little pieces of half eaten cheeses, to make the greatest, most flavorfully decadent macaroni and cheese every…and get your cheese drawer back!
I use a very sharp cheddar as the primary cheese, and then throw in everything from parmesan, blue, American cheese slices, Swiss, Gouda, to Manchego and Pecorino.
The key is to make a white sauce first, to which I add the cheese, and then combine in the cooked macaroni. (You can bake it with a little Panko topping in a 400 degree oven for 25 minutes, if you choose.)
…Alex Province

In a large heavy bottom saucepan over medium heat, melt the butter and sprinkle in flour. Continue cooking for several minutes (while gently scraping the bottom), and allow to gently brown. Slowly whisk in milk and bring to a simmer. The sauce will thicken considerably. Season with salt, pepper, cayenne, nutmeg, and Dijon mustard.

Add cheese to sauce and allow to melt.

Meanwhile, cook macaroni in plenty of salted water until just barely al dente, and drain.

Combine the macaroni into the cheese sauce and allow to cook for a few minutes, then serve, or top with Panko and bake in an oven proof casserole pan for 25 minutes, or until golden brown.