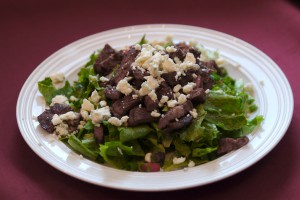 From Faith: Done right, a steak salad is among the most satisfying dishes; alluring, filling, and not wildly unhealthy if you watch the proportions.
The Food Network's Giada DeLaurentis gets it right in this recipe. I loved the spark of the vinaigrette against the sliced meat, the crisp lettuce, and a sprinkling of cheese that serves here as a flavoring agent. That all sounds technical; the thing is, this salad is delicious.
Tip: If you are serious about calorie counts and cholesterol, use a lean cut of beef; you won't miss the fat because of her flavor combinations. (Or substitute grilled chicken.)

In a large bowl, combine the romaine lettuce, Belgian endive, red onion, baby arugula and cherry tomatoes, and half of the cheese. Toss the salad with enough vinaigrette to coat. Season the salad with salt and pepper, to taste. Arrange the salad on a platter.

Cut the steaks crosswise into thin slices. Arrange the steak slices atop the salad and sprinkle with the remaining cheese. Drizzle more vinaigrette over the steak slices and serve.
Mix the vinegar, lemon juice, honey, salt, and pepper in a blender. With the machine running, gradually blend in the oil.