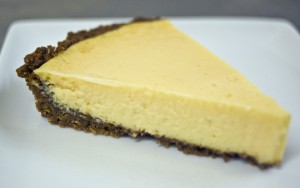 From Faith: Our pal Linda Giuca, who writes a food column with Chris Prosperi in the Hartford Courant, came waltzing into our studio with a freshly made key lime pie. One glance told us this was going to be something; one bite and we knew she had a winner —tart yet creamy, a beautiful play against the absurdly easy and buttery graham cracker crust. (Linda says you can substitute any kind of crumbled cookie you like.)
I love that Linda made this now, when our appetites are demanding bright citrus flavors after a long winter of comforting stews and roasts. Because we also crave desserts that don't take years to put together, this perfectly fits the bill.

Process crackers in a food processor until fine crumbs form. Add sugar, and pulse a few times to blend. Pour in melted butter and pulse a few times to blend

Pat crumbs along the sides and bottom of a 9-inch tart or springform pan. Bake in a preheated 350-degree oven for 10 minutes. Remove from oven, and set aside.

If you don't have a food processor, put the crackers in a plastic bag, squeeze out most of the air, seal the bag and roll a rolling pin over the bag until the crackers turn into fine crumbs. You can buy graham cracker crumbs in the supermarket or even a premade graham cracker crust.
Combine filling ingredients, and whisk by hand or mix with an electric mixer until well blended. Pour into baked crust. Bake at 350 degrees for 20 minutes or until center of pie is slightly jiggly. Remove from oven and cool. Cut into 8 slices.