Atole is a beverage with ancient Aztec roots, often served as part of the Day of the Dead festivities and as a remedy for having taken a chill. With a kick of spice, a nourishing base of grain, and a soothing milkiness from dairy or coconut milk, atole is comfort food you can drink. With the addition of chocolate, atole becomes champurrado. Like its more well-known cousin horchata, and also like its savory brother from another mother, Congee, variations in the grain base are common enough in the places of origin to invite your own experimentation: try oat or rice flour if you seek an alternative to the corn. Without chocolate, this is a very soothing preparation; with chocolate, it is a treat with built-in sustenance. I suppose a splash of rum would not be wrong, if the circumstances seem to warrant it.
— Janet Reich Elsbach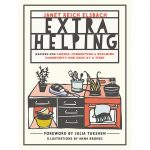 From Extra Helping by Janet Reich Elsbach © 2018 by Janet Reich Elsbach. Illustrations © 2018 by Anna Brones. Reprinted in arrangement with Roost Books, an imprint of Shambhala Publications, Inc.
Image: courtesy of Janet Reich Elsbach, from her blog, A Raisin + a Porpoise


Put the masa in a medium saucepan. Add the salt and then the water in a slow, thin stream, whisking constantly to avoid lumps. Bring to a simmer over medium heat.

Whisk in the milk, sugar, cardamom, and chili.

Return to a simmer and reduce the heat to low. Continue to simmer gently, whisking constantly, for about 5 minutes, until the drink is thickened and infused with the flavorings. Discard the whole spices and zest, and whisk in the chocolate. Thin with additional milk or water, as needed, to create a too-thin-to-eat-with-a-spoon, thicker-than-your-average drink consistency. Taste, and adjust the sweetness and salt to your preference. Ladle into mugs, garnish as desired, and serve. You can refrigerate this for later reheating in a tightly lidded jar, but it definitely should be served warm. It will keep up to 3 days refrigerated; simply thin with a little more milk or water and whisk it over low to medium heat to serve.