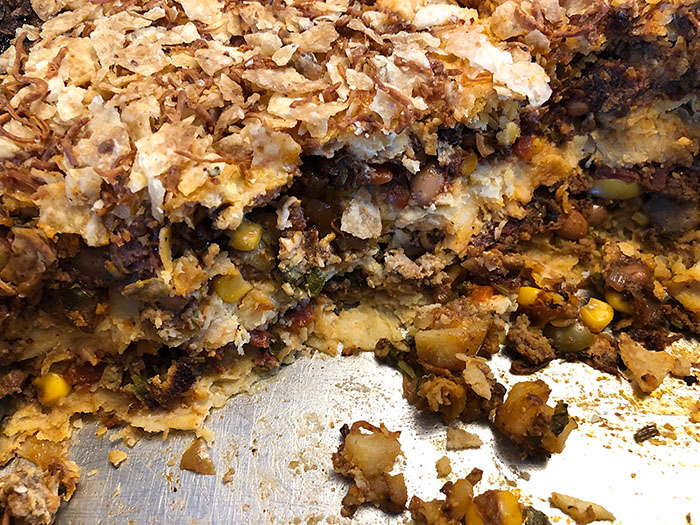 When my sisters and I were wrangling a collection of little cousins whom we often fed together, I stumbled across a recipe for Chilaquile Casserole in Mollie Katzen's Still Life With Menu Cookbook. It was delicious and nourishing and totally simple to make and we abused the privilege of its discovery so severely that my oldest nephew re-christened the dish "Chili-Kill-Me Casserole." Its simplicity and flexibility came to mind when trying to think of ways to make a huge dinner without losing my mind, as it accommodates whatever you have access to or is on sale at the grocery store (roast chicken, for example, can sub in for the ground meat) and whomever is expected for dinner (for vegetarians, you can leave the meat out entirely), has sub-tasks that are easily delegated to helping hands, and is content to be made ahead or held at temperature for a while. Cheese is basically the most expensive of the ingredients here, and even without especially savvy pre-ordering in bulk (which my local markets happily allow for, and which definitely brings the cost way down), I am able to make this and a side vegetable for 140 people for under $200, which is not too shabby.
— Janet Reich Elsbach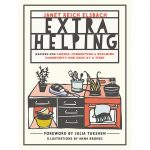 From Extra Helping by Janet Reich Elsbach © 2018 by Janet Reich Elsbach. Illustrations © 2018 by Anna Brones. Reprinted in arrangement with Roost Books, an imprint of Shambhala Publications, Inc.
Photo: From our pre-show lunch, Robyn Doyon-Aitken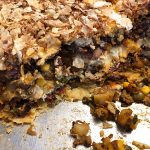 Lightly oil two 9 x 13 x 2½ inch baking/lasagna pans. Put 1 cup of sauce in the bottom of each pan.

Beat the buttermilk and eggs together in a spouted bowl and set aside.

Now turn toward the filling. Combine the beans, meat, cumin, corn, chilies, olives, potatoes, and cilantro in a large bowl and toss together thoroughly. Thanks to the olives, this shouldn't need much salt (and be mindful that more is coming from the cheese) but double check with a quick taste.

Divide the tortillas in two equal stacks, and cut each stack in half. In a fun spatial alignment exercise that need not be very precise, use one of these four piles to create a more or less even layer of tortillas that goes all the way to the edges of the first pan. You'll quickly figure it out, but it pays to start with a ring of pieces with their straight sides to the edges of the pan, then fill in from there. Repeat with another pile on the second pan.

Distribute 3 cups of the filling mixture over the tortilla layer, then 2 cups of the sauce. Sprinkle 2 cups of the cheese over that. Repeat for the second pan.

Create another tortilla layer in each pan, finishing those off, and divide the remaining filling between the two pans. Add 2 cups of sauce to each pan, and sprinkle 1 cup of cheese over each.

Pour the buttermilk mixture gently over the top, dividing it evenly between the two pans. At three or four spots around the perimeter of the dish, insert a flexible spatula along the side of the pan to allow the buttermilk to seep down a bit.

Bash the bag of chips up, crumbling them inside the bag. Add the remaining 2 cups cheese to the bag and shake to combine. Distribute this mixture on top of the two pans and let stand about 20 minutes before baking. You can also pause the whole process here for a few hours if you want to bake it later; just put it in the fridge and let it come to room temp before you bake it, uncovered, at 375°F for about 50 minutes, until golden on top and a quick poke near the center shows that the custard is set. Cooked, this will keep for 3–5 days refrigerated or up to 3 months frozen.
Other Ways to Do It
You need 12 cups of filling to make the two pans. There's room for quite a lot of variation as you build it up:
• For a vegetarian version, substitute another 2 cups of beans for the browned meat, or opt for sautéed zucchini or cubed, cooked potatoes (Yukon Gold or yams).
• For an alternative meaty version, substitute shredded roast chicken or chopped chorizo sausage.
Enchilada Sauce
A few chipotles in adobo, minced and added with the tomatoes, make a nice addition to the flavors in the sauce, if you know your diners are amenable to a little heat.
Makes about 12 cups
½ cup olive oil
3 large yellow onions, about 2½ pounds, finely chopped
1 medium head of garlic (about 3 ounces), minced
2 tablespoons ground cumin
3 tablespoons ancho chili powder
One 4-ounce can tomato paste
One 28-ounce can fire-roasted ground or chopped tomatoes
1 cup brewed coffee
2 tablespoons lime juice
2 tablespoons maple syrup
2 1/3 cups broth (chicken or vegetable), or water
½–1 tablespoon salt
1 bunch fresh cilantro, washed and finely chopped (about 1 cup)
1. Heat the oil in a large skillet over medium heat and sauté the onions for about 15 minutes, until they are soft and just beginning to brown.
2. Add the garlic, cumin, and chili powder, stir a time or two, and then add the tomato paste, stirring until it's blended before adding the tomatoes, coffee, lime juice, maple syrup, and broth. Let this come to a simmer and cook for about 10 minutes, until fragrant.
3. Stir in ½ tablespoon of salt, and then the cilantro. Taste for a balance of flavors, adding as much of the remaining ½ tablespoon salt as you like.
4. Use immediately, or cool and refrigerate for up to four days. The sauce can also be frozen for up to 3 months.
Other Ways to Do It
With the addition of 1–2 pounds of browned turkey or beef and a 25-ounce can of kidney, pinto, or black beans, drained this becomes enough to sauce 6 pounds of cooked, drained elbow macaroni; spread that mixture in a baking pan, liberally sprinkle the surface with grated cheddar or Jack cheese and crumbled tortilla chips, and bake for about 20 minutes, until toasty on top, and you have brought chili-mac to life.