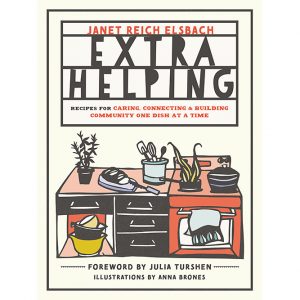 These inspiring and adaptable little items leapt out at me from the pages of a wonderful cookbook called Twelve Recipes by Cal Peternell. I find they happily flex to accommodate both whole-grain and gluten-free bread, and the addition of some stealth pumpkin puree brings additional nourishment along with a very nosh-able texture. They work well with just about any green + herb combination. Like the Little Meatballs, these are delicious hot from the pan, room temperature from the counter, cold from the fridge at 3:00 a.m., eaten alone, or dipped in something wonderful. A nutritional powerhouse in a small, appealing package, they make a handy stand-in for meatballs over pasta, in the Wild Rice Soup or on a stick. I generally require at least three reasons before I am willing to haul out (and wash) my food processor, and this recipe provides that: use it to pulse the bread, then the shallot, then the garlic and herbs, then the greens; fine, fine mincing of all the components is the key to success here.
— Janet Reich Elsbach
From Extra Helping by Janet Reich Elsbach © 2018 by Janet Reich Elsbach. Illustrations © 2018 by Anna Brones. Reprinted in arrangement with Roost Books, an imprint of Shambhala Publications, Inc.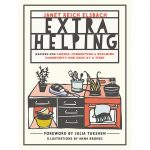 Servings
20-30
tiny unmeatballs
Servings

20-30

tiny unmeatballs
Servings:
tiny unmeatballs
Heat a large skillet over medium-low heat and add the oil, shallots, and 1 teaspoon of salt. Cook, stirring occasionally, for about 6 minutes, until soft and lightly browned. Add the garlic, herbs, cumin seeds, and paprika. Stir for 30 seconds.

Add the greens to the pan and sauté for 1–2 minutes, until they soften. Turn the mixture out into a medium mixing bowl.

Let cool for 5 minutes, then add the breadcrumbs, feta, and pumpkin. Mix well, then taste for seasoning. Add more salt and some pepper if necessary—this is your chance, while the mixture is egg-free, to taste and get the seasoning right.

Crack the egg into the bowl and mix it in very well.

Let the mixture rest in the fridge for 10–20 minutes, to regulate the moisture between the wet and binding ingredients and the breadcrumbs.

One scant tablespoon at a time, roll the mixture into balls.

Once all the unmeatballs are formed, refrigerate the rolled balls for at least 30 minutes, to firm up a bit more.

Heat 2 tablespoons oil in a skillet over medium heat. Working in batches if necessary, add the balls to the pan—they should sizzle when they hit the oil—then turn heat down to medium-low (bread browns fast, so keep the heat on the lower side to keep these from burning). Use a small spoon to gently move them around, turning frequently. The mixture is soft, but the balls will hold together as soon as a cooked crust forms. Cook for about 8 minutes, until toasty brown on all sides.

Remove to a plate or heatproof dish. Serve immediately, hot or at room temperature, or cool and store to reheat later. They will keep for up to 1 week in the fridge. They can be frozen, wrapped securely, for up to a month.