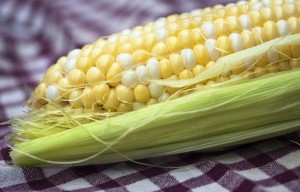 This is the easiest thing in the world to make, though I caution you to whip up a double batch. I didn't make a double batch the first time I served this, and by the time I left the grill, the guests had eaten the entire bowl. All this recipe takes is a little assembling and cooking corn the way you'd like to, either grilled, boiled, fried, or steamed.
Dice the cooked shrimp into pieces and set aside. Fry the bacon until crisp, discard the oil, and drain the bacon slices on paper towels. Chop the bacon and set aside.

Cook the shucked corn and remove kernels with a sharp knife. Quickly place the hot kernels in a large bowl with the bacon pieces, shrimp, avocado and butter. Stir so that the butter melts and coats the mixture.

Add the fresh lime juice and sea salt to taste. Mix and serve.