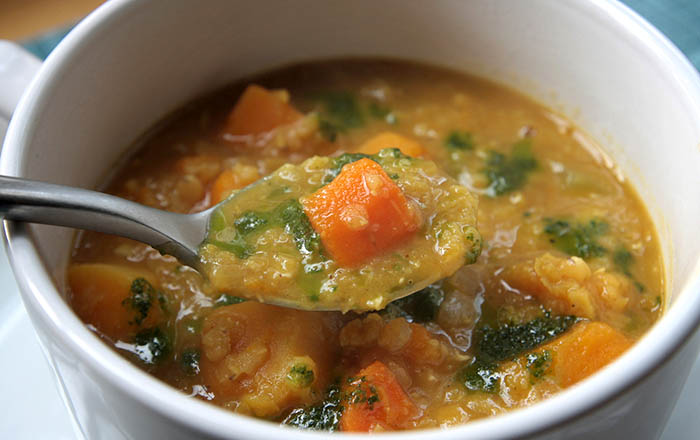 This is one of Faith's favorite go-to soup-as-a-meal recipes. She prefers red lentils, simply because she finds them beautiful, but you could use brown lentils if that's what you have or what you like. As a last step, she uses an immersion blender to thicken the soup, but you don't have to if you like the texture of the plump cooked lentils as they are.
• ON-DEMAND: Listen to Faith describe how her recipe comes together. •
Photo: Tracy Benjamin/Flickr, cretaive commons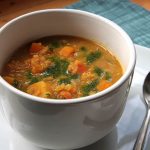 In a soup pot, sauté sliced red onion in a teaspoon of olive oil until onions are slightly crispy. Remove and drain on a paper towel. Set aside.

Place lentils in the soup pot and add enough chicken broth to cover the lentils by one inch. Boil and cook for about ten minutes. Set the lentils aside in a bowl.

Heat 1/4 cup of olive oil on medium in the soup pot, add carrots, sweet potato, and zucchini. Cook until softened, about 5 minutes. Add the slightly crispy onions, curry powder, paprika, and garlic and stir for 2 minutes. Add the cooked lentils, bay leaf, tomatoes, and the rest of the chicken stock. Bring to a boil, cover, reduce heat to a simmer until lentils have completely softened, about 45 minutes, stirring occasionally.

Faith adds salt and pepper to taste, then hits the mixture with her hand held immersion blender to make it creamy, but you don't have to. (Add water if it's too thick.) Serve in bowls with a dollop of yogurt.
This recipe freezes well.