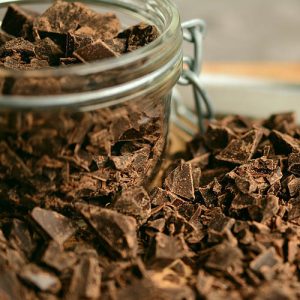 Craving chocolate? Here's an excellent way to get your chocolate fix. Many frozen chocolate pies and ice box cake recipes include cream cheese or even ice cream. Not this one. This easy crust-less chocolate pie is all about pure chocolate flavor and hazelnutty goodness. Topped with a Kahlua whipped cream, it's a cool, dreamy dessert bound to get raves—and requests for the recipe (which I've adapted from The Loaves and Fishes Cookbook). If you're not a fan of Kahlua, sub in espresso instead. Go ahead and make it your own.
— Faith Middleton
Photo: Pixabay.com
For the Kahlua whipped cream
Process hazelnuts and 4 ounces of chocolate until coarsely chopped in a food processor fitted with a metal blade. Transfer to a small bowl, add the cornstarch mixture and stir well.

Process the remaining 4 ounces of chocolate and the sugar in the same bowl until fine. With the motor running add the hot water. Continue processing until the chocolate has melted.

Add the eggs, butter, Kahlua and vanilla. Process until creamy, about 30 seconds. Add the hazelnut mixture. Process until just blended.

Pour the batter into a buttered 9-inch pie pan and bake for 30 minutes. Let cool. Wrap the pie in foil and freeze for at least 4 hours. Remove from the freezer 30 minutes before serving.

To make the topping, whip all the cream, Kahlua, and vanilla until soft peaks hold. Serve with the pie.