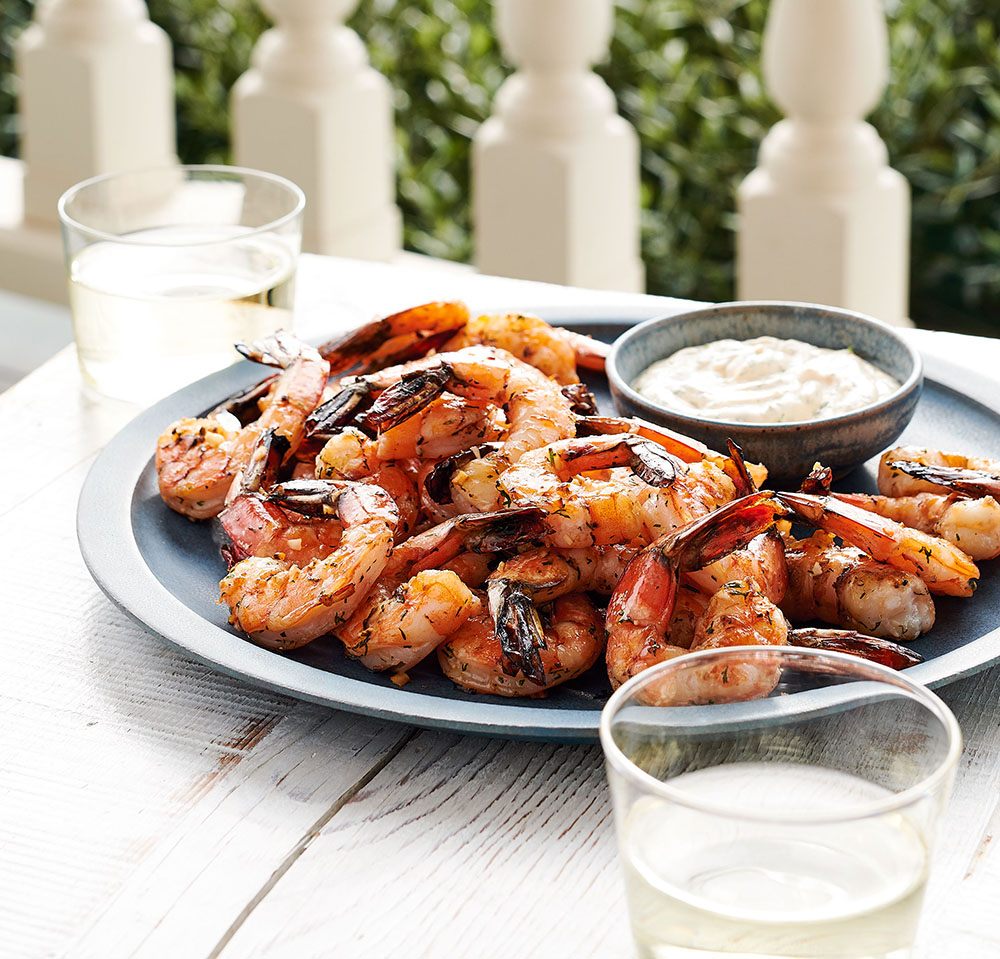 Shrimp can be a little type A—they benefit from order. Arrange them on the grate from left to right. That way, you'll remember which shrimp went on the grill first. The ones on the left should be the first ones off. With or without the sauce, these garlicky shrimp make a tasty, and quick, meal.
—Jamie Purviance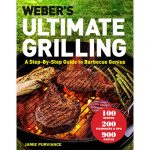 Excerpted from Weber's Ultimate Grilling © 2019 by Jamie Purviance. Photography © 2019 by Ray Kachatorian. Reproduced by permission of Houghton Mifflin Harcourt. All rights reserved.

In a small bowl combine all the ingredients for the sauce and whisk until smooth. Cover and refrigerate until serving time (the sauce can be made up to 4 hours ahead).

To peel each shrimp, grab the shell just above the tail and break it loose. Peel away most of the shell, pulling off the little legs and leaving the tail shell intact.

To devein each shrimp, using a sharp paring knife, make a shallow slit along the back of the shrimp. Lift the black vein out of the slit and dis-card it. In a medium bowl combine the shrimp, oil, and dill.

On a cutting board mash together the garlic and salt, using the sharp blade and the side of the knife to create a paste. Add the paste to the shrimp along with the pepper. Toss to coat evenly. Set aside while you prepare the grill.

Prepare the grill for direct cooking over medium-high heat (400° to 450°F). Brush the cooking grates clean. Arrange the shrimp on the grill in an orderly way, such as left to right, so you can easily remember which shrimp started cooking first.

Grill over direct medium-high heat, with the lid closed as much as possible, until firm to the touch and just turning opaque at the center, 4 to 5 minutes, turning once. Serve at once, with the sauce on the side.
VARIATION: AVOCADO-CLEMENTINE SALSA
For a fresh take, omit the lemon-dill sauce and replace it with this citrus and avocado salsa.
To make the salsa, cut away all the peel and white pith from 1 pound clementines or seedless tangerines (3 or 4 fruits). Halve, pit, and peel 1 large, firm but ripe avocado. Cut the clementines and avocado into ½-inch pieces and put them in a medium bowl. Add ¼ cup minced red onion, 2 tablespoons finely chopped fresh cilantro, 1 tablespoon fresh lime juice, ¼ teaspoon kosher salt, and ¼ teaspoon ground black pepper and stir. Serve alongside the grilled shrimp or over grilled fish.