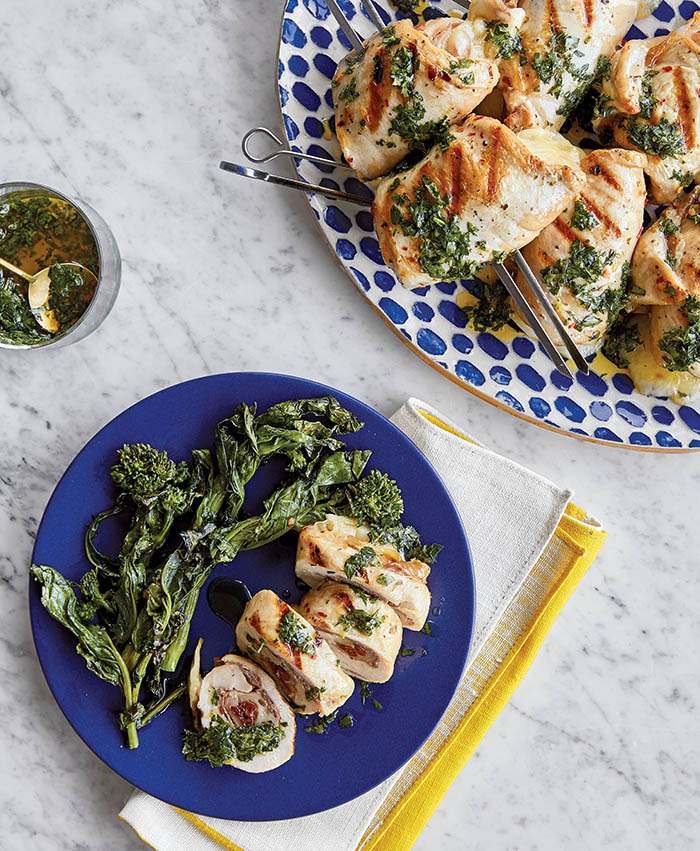 Involtini means "rolled," and you'll find rolled and stuffed dishes like these throughout northern Italy. There, cooks use tougher cuts of beef, simmering them in sauce until tender; I've adapted this technique for the grill using fast-cooking chicken cutlets to simplify things and make cleanup easier. The crunchy and cheesy bites that ooze out of the sides are irresistible. Most kids go crazy for this, but it has sophisticated flavors adults will enjoy, too.
— Giada De Laurentiis
• ON-DEMAND: Listen to Faith's conversation with Giada during a special edition of The Faith Middleton Food Schmooze® recorded on location in Madison, Connecticut, thanks to R.J. Julia Booksellers. •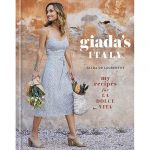 Excerpted from Giada's Italy: My Recipes for La Dolce Vita. Published by Clarkson Potter Publishing, an imprint of Crown Publishing Group, a division of Penguin Random House, LLC. © 2018 by GDL Foods Inc. Photo by Aubrie Pick.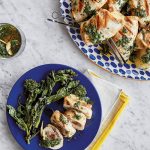 Preheat a grill to medium-high heat. Move the coals to one side so that you can cook the chicken over indirect heat.

MAKE THE SAUCE: In a small bowl, stir together the parsley, lemon zest, olive oil, and salt. Set aside.

PREPARE THE INVOLTINI: In a separate small bowl, mix the oregano, salt, and red pepper flakes together. Lay a chicken cutlet lengthwise on your work surface and season it all over with the salt mixture. Place a piece of prosciutto on top, followed by a piece of provolone folded in half. Top with 1 sun-dried tomato. Roll the cutlet, enclosing the fillings, and secure with 2 parallel skewers. Repeat with the remaining ingredients, placing 2 rolls on each pair of skewers for easy flipping.

Drizzle the rolls with the olive oil and place them on the grill directly over the coals. Sear the chicken on both sides for 10 minutes, or until golden brown, flipping as needed. Move the skewers away from the hot coals, cover the grill, and cook with indirect heat for an additional 10 minutes, or until cooked through, turning once. Transfer to a platter and allow to rest for 5 minutes.

Remove the skewers from the involtini, slice, and serve drizzled with the sauce.