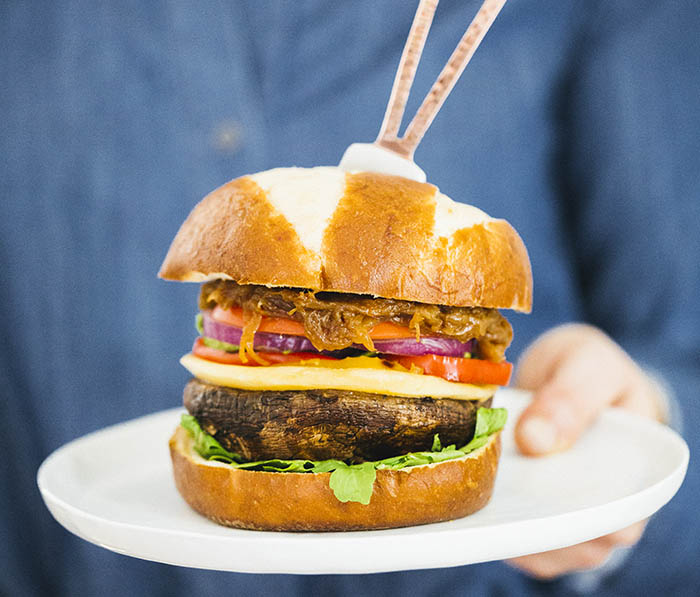 People sometimes mistake us for hardcore vegetarians since we eat so many vegetables. In truth, we do indulge in a juicy beef burger once in a while. But for our everyday cooking, we like this burger (almost) as much. This messy sandwich uses the meatiest of all vegetables: the Portobello, a thick juicy mushroom that's not at all like the slimy canned ones I came to fear in childhood. Grilled with a bit of garlic and balsamic, a smoky umami infuses the entire mushroom. To top this special burger, onions are reduced to a dark, sweet caramel mess that tastes like pure gold. You can customize the other toppings to your liking: here we've used a pile of vegetables and smoked cheese. The resulting sandwich is gigantic and a bit messy to handle, but the experience of eating it can't be beat.
GF* For gluten-free, use gluten-free buns.
V* For vegan, omit the cheese or use a vegan variety.
—Sonja & Alex Overhiser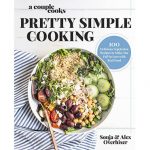 Excerpted from A Couple Cooks | Pretty Simple Cooking: 100 Delicious Vegetarian Recipes to Make You Fall in Love with Real Food by Sonja and Alex Overhiser. Copyright © 2018. Available from Da Capo Lifelong Books, an imprint of Perseus Books, LLC, a subsidiary of Hachette Book Group, Inc.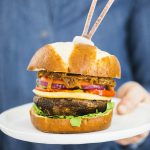 This "meaty" burger is gluten free and vegetarian.
For the caramelized onions
Caramelize the onions: Peel, halve, and thinly slice the onions. In a very large skillet, heat the olive oil over medium-high heat. Add the onions, which may just fit the skillet and can be mounded if necessary. Saute, stirring frequently, for about 10 minutes until soft and translucent.

Add the kosher salt and reduce the heat to medium low, finding a temperature that is not so hot that the onions burn but not so low that they do not continue to cook. Cook slowly, stirring every 5 to 10 minutes or so, until reduced and dark brown, about 40 minutes. The onions will turn from translucent white to golden to a rich, dark brown color, and the volume will reduce by at least four times.

Grill the mushrooms and peppers: Preheat a grill to medium high (for an alternative roasting method, see Notes).

Brush any dirt from the mushroom caps and remove the stems. Place the mushrooms gill-side up on a baking sheet. Peel and mince the garlic. Sprinkle the garlic onto the mushrooms, then drizzle each cap with about ½ tablespoon olive oil and 1 teaspoon balsamic vinegar. Add a generous pinch of kosher salt to each (about ½ teaspoon in total) and several grinds of black pepper to each mushroom.

For the bell peppers, turn each pepper on its side and cut off top. Remove pith and seeds, then slice the pepper along its cut side into 1/4-inch rings. Slice the cheese.

Place the mushrooms gill side up on the hot grill over direct heat. Place the pepper rings along the edges of the grill over indirect heat. Grill the mushrooms until tender and juicy, about 12 to 15 minutes, then flip, draining any juices, and grill an additional 2 minutes. If desired, flip one more time and melt sliced cheese onto the mushrooms. Meanwhile, cook the peppers until tender, about 15 minutes. If desired, place the peppers over direct heat toward the end of the cooking time to blacken them.

To serve, slice the avocado, tomato, and red onion and wash the arugula. Serve the portobellos on buns topped with grilled peppers, avocado, tomato, red onion, arugula, and caramelized onions.
Alternative method: Preheat the oven to 450°F. Line a rimmed baking sheet with parchment paper or a silicone mat. Place the mushrooms gill-side up on the sheet and prepare with garlic, olive oil, balsamic vinegar, and salt as instructed. Add 1/2 teaspoon liquid smoke to each mushroom. Slice the bell peppers as noted, then place them on the same baking sheet. Roast for 15 minutes until tender. Drain of any excess liquid as necessary.