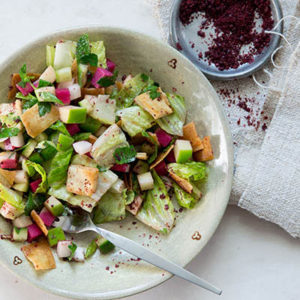 Fattoush is a classic Middle Eastern salad made with chopped tomato, romaine, herbs, and cucumber. It's usually topped with small pieces of crispy, deep-fried pita bread and generously sprinkled with sumac, a delicious, tart spice with a slight raisin or sun-dried quality and bright crimson color. It's what makes fattoush taste so lemony. In the fall, early winter, or spring, when apples and radishes are looking good, this salad has incredible, bright flavors that pop in the mouth. In the wintertime, I like to substitute escarole for the romaine, pomegranates for the apples, and mandarins for the radishes.
— Ana Sortun
On-Demand: Listen to Faith and Ana talk about this salad (and other recipes!) when Ana was a guest on The Faith Middleton Food Schmooze®.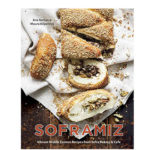 Reprinted with permission from Soframiz by Ana Sortun and Maura Kilpatrick, 2016. Published by Ten Speed Press, an imprint of Penguin Random House LLC.
Photographs copyright © 2016 Kristin Teig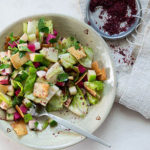 Preheat the oven to 375°F.

Place the pita squares in a large mixing bowl and coat them with 6 tablespoons of the olive oil, using your hands to almost knead the oil into them. The olive oil must saturate the pita so that they crisp in the oven instead of toast. Sprinkle with 1⁄2 teaspoon of the salt and spread onto a baking sheet. Toast until they are crisp and golden, about 20 minutes. Set aside to cool.

Cut the core and the top one-third from the head of romaine and trim off any bruised or damaged leaves. Slice the romaine into thin ribbons. Transfer to a large salad bowl.

Make a dressing by whisking together the pomegranate molasses and lemon juice. Whisk in the remaining 4 tablespoons olive oil slowly, to form an emulsion (it's okay if it separates, but it will coat the salad leaves better if it emulsifies). Add the mint, parsley, cucumber, apple, and radishes to the romaine and season with the remaining 1⁄2 teaspoon salt and freshly ground black pepper to taste. Toss well to coat everything with dressing.

Sprinkle the salad with sumac and serve immediately.
Pomegranate Molasses
Pomegranate molasses is not actually molasses but rather a syrup made from the juice of sour pomegranates cooked down with a little salt and sometimes sugar. It's tart, sweet, and acidic and can be used in place of vinegar or lemon. Making it is very labor intensive, but it preserves the abundant pomegranate crops throughout the Middle East. Unfortunately, there are many commercial brands that add too much sugar and coloring to offset the cost of labor and fruit.
This pantry gem brightens a rich stew after it has been braised all day and adds intensity and acidity to meze dishes. It makes a wonderful dressing for fattoush and a great glaze for roasted lamb or chicken. Store in a cool, dark pantry once it's opened. My favorite brand, Mymouné, is made by a cooperative at the foot of Mount Sannine in Lebanon. It is available at some Middle Eastern specialty stores, sofrabakery.com, or mymoune.com.