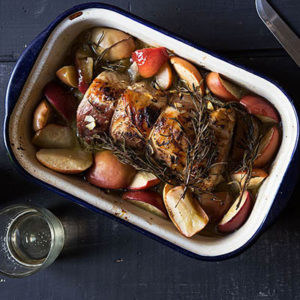 Normans use apples and cider in many savory preparations—with game, poultry, even fish. In this classic pork dish from Jean-François Guillouet-Huard, of Domaine Michel Huard, it's important to use a slightly tart variety so the end result isn't too sweet.
Excerpted with permission from Saveur magazine
The France Issue
May 2016, Issue#183
Recipe by Jean-François Guillouet-Huard
Photo by Matt Taylor-Gross.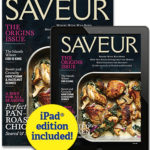 Editor-in-Chief Adam Sachs and Test Kitchen Director Stacy Adimando talked with Faith about this recipe in a special fundraising edition of The Food Schmooze®. With a contribution of $5 a month, you can subscribe to Saveur and support The Faith Middleton Food Schmooze® at the same time. We hope you will. Thank you!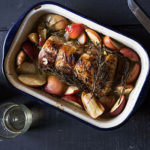 Heat the oven to 350°. Place the pork in a large roasting pan and season with salt and pepper. Drizzle the honey over the pork, then arrange the rosemary and thyme on top. Scatter butter over the pork, then arrange the onions in the pan around the pork.

Pour the cider into the pan and bake until an instant-read thermometer inserted into the middle of the pork reads 120°, about 45 minutes. Scatter the apples around the pork and continue baking until the apples are tender and the pork is golden brown and the instant-read thermometer reads 160°, about 45 minutes more.

Remove the roasting pan from the oven and let the pork rest for 20 minutes. Transfer the pork to a serving platter and cut into thin slices. Scatter the baked apples and onions around the pork and drizzle with the pan juices before serving.