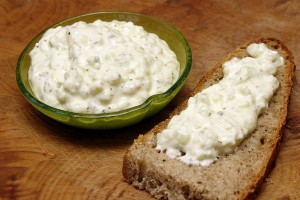 From Faith: We asked Connecticut home cook Carol Baugh to give us her favorite burger recipe and it turns out she drizzles her beef with Ina's great Greek sauce. (It's great on everything, such as chicken, lamb, turkey and fish.)
Really, after whipping up the sauce, it's a display job, says Carol, who knows how to throw a great party. She puts out the burgers on buns, with bowls of sliced tomatoes, feta, olives, sliced raw onions, and the yogurt-garlic sauce, inviting guests to build their own.
(Carol Baugh lives in Guilford; has worked in a European restaurant, and had a catering business at age 12.)

Place the yogurt in a cheesecloth or paper towel-lined sieve and set it over a bowl. Grate the cucumber and toss it with 1 tablespoon of kosher salt; place it in another sieve, and set it over another bowl. Place both bowls in the refrigerator for 3 to 4 hours so the yogurt and cucumber can drain.

Transfer the thickened yogurt to a large bowl. Squeeze as much liquid from the cucumber as you can and add the cucumber to the yogurt. Mix in the sour cream, vinegar, lemon juice, olive oil, garlic, dill, 1/2 teaspoon salt, and pepper. You can serve it immediately, but I prefer to allow the tzatziki to sit in the refrigerator for a few hours for the flavors to blend.

Serve chilled or at room temperature." Serve in pita pockets or pile all onto a really good hamburger bun. It will all ooze together and you'll think you're in heaven with the combination of flavors. Add a green salad and an icy cold bottle of Vinho Verde white wine. Sit out on the deck and enjoy summer!
I get my vinho verde from David at Frank's package store in Guilford.  He always chooses just the right one when I tell him what I'm cooking for friends!