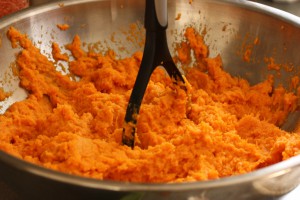 She's a wizard with food. That's a fact. Her cookbooks are remarkably reliable. A year ago, when I interviewed Ina Garten on Boston's Symphony Hall stage, I told the audience of 3,000 people that reaching for her books is like reaching for happiness. In her most recent cookbook, Make It Ahead, she shares a sensational recipe for sweet potatoes that are baked twice, the soft insides pulled out and folded back into the casings with Taleggio cheese, shallots, fresh thyme and butter. Absurdly good. Perfect for Thanksgiving.

Preheat the oven to 400 degrees. Line a sheet pan with aluminum foil. Place potatoes on the pan and cut a few slits in each to allow steam to escape. Bake the potatoes for 50-60 minutes, until very tender when tested with a skewer. Set aside for 10 minutes, until cool enough to handle.

Meanwhile, heat 1½ tablespoons of the butter in a small skillet over medium heat. Add the shallots and sauté 4 to 5 minutes, until tender. Add the thyme and cook for 1 minute. Set aside.

Cut the potatoes in half lengthwise and with a teaspoon carefully scoop out some of the warm potato into a medium bowl, leaving a 1/2-inch-thick shell of sweet potato. The potatoes should look like little canoes. Sprinkle the potato shells generously with salt and pepper. Add the remaining 4 tablespoons of butter to the scooped-out potato flesh and mash it with a fork. Add the egg, shallots, Taleggio cheese, 3/4 teaspoon salt, and 1/4 teaspoon pepper and stir until combined. Spoon the mixture into the sweet potato shells and top each with a sprig of fresh thyme. Bake for 20 to 30 minutes, until puffed and lightly browned. Serve hot.