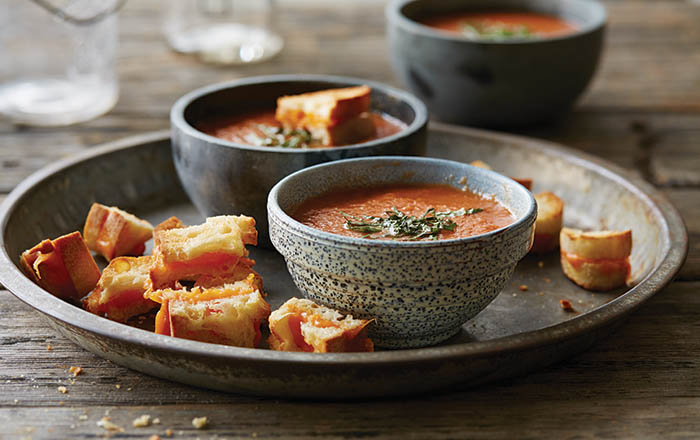 The ultimate comfort meal—tomato soup with grilled cheese (croutons) on top.
Obviously it is best to make this soup in the summer and fall, when fresh garden tomatoes are available, but there are some "acceptable" winter-tomato substitutes such as good-quality organic canned tomatoes or hothouse-grown organic winter tomatoes. Add 1/2 teaspoon sugar with the tomatoes if you are preparing this soup in winter.
The Grilled-Cheese Croutons will appeal to kids as well as grown-ups.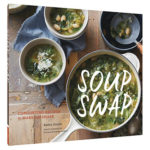 Excerpted from Soup Swap by Kathy Gunst, Published by Chronicle Books LLC. Text ©2016 by Kathy Gunst. Photographs by Yvonne Duivenvoorden, ©2016 by Chronicle Books LLC.
ON-DEMAND: Listen to Faith, Chris Prosperi, and Kathy talk about this comforting soup (which Chris made for our pre-show meal), as well as how to start a soup swap of your own.  Please support The Faith Middleton Food Schmooze® and all of WNPR's programming by swapping a pledge of $8 a month for this book. Make your pledge now. Thanks.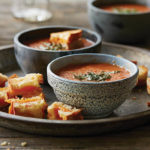 Servings
8
- 10 tasting portions or 6 full servings
Servings

8

- 10 tasting portions or 6 full servings
Servings:
- 10 tasting portions or 6 full servings
Trim off the dark green sections from the leeks and save for making vegetable stock. Halve the pale green and white sections lengthwise. Rinse under cold running water, pat dry, and cut crosswise into thin pieces.

In a large stockpot over low heat, warm the olive oil. Add the leeks, onions, and shallot and cook, stirring, for 10 minutes.

Meanwhile, bring a pot of water to a boil over high heat. Cut a small X in the stem end of each tomato. Drop the tomatoes into the boiling water and blanch them for about 20 seconds. Using a slotted spoon, transfer them to a colander to drain. When cool enough to handle, remove and discard the skin from the tomatoes, remove the core, and coarsely chop the flesh.

Add the tomatoes to the stockpot, season with salt and pepper, and cook for 5 minutes. Turn the heat to high, add the vegetable stock, and bring to a boil. Turn the heat to low and simmer for 30 minutes. Remove from the heat and let cool slightly.

Using a food processor or blender and working in batches or using a handheld immersion blender, purée the soup until smooth. Return the soup to the pot, add the cream (if using), and simmer over low heat for about 10 minutes. If the soup is too thin or watery, simmer for about another 10 minutes, until slightly thickened. Taste and adjust the seasoning, adding more salt and pepper if needed.

Ladle the soup into mugs or bowls and top each with 2 to 4 croutons or a half-slice of open-faced crouton, if you prefer. Garnish with the basil and serve.
TO GO: Prepare the croutons but instead of adding the basil and cheese and broiling them, place them on a baking sheet and cover with plastic wrap. Pack the basil and cheese separately. At the party, broil the croutons with the cheese and sprinkle with the basil just before serving with the soup.
Can be served cold, vegan.