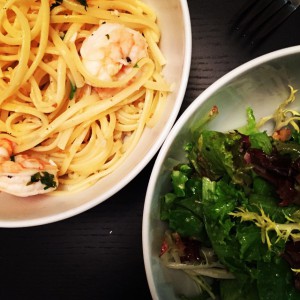 Lemon and shrimp is a wonderful combination, add linguine and you've got a winner.  We found this recipe at Allrecipes. It comes together in minutes, but tastes like you've been preparing all day. Serve with a simple green salad and light the candles.

Bring a large pot of lightly salted water to a boil. Add linguine and cook for 9 to 13 minutes or until al dente; drain.

Heat oil in a large saucepan over medium heat, and saute garlic about 1 minute. Mix in chicken broth, wine, lemon juice, lemon zest, salt, and pepper. Reduce heat, and simmer until liquid is reduced by about half.

Mix shrimp, butter, parsley, and basil into the saucepan. Cook 2 to 3 minutes, until shrimp is opaque. Stir in the cooked linguine, and continue cooking 2 minutes, until well coated. Serve.