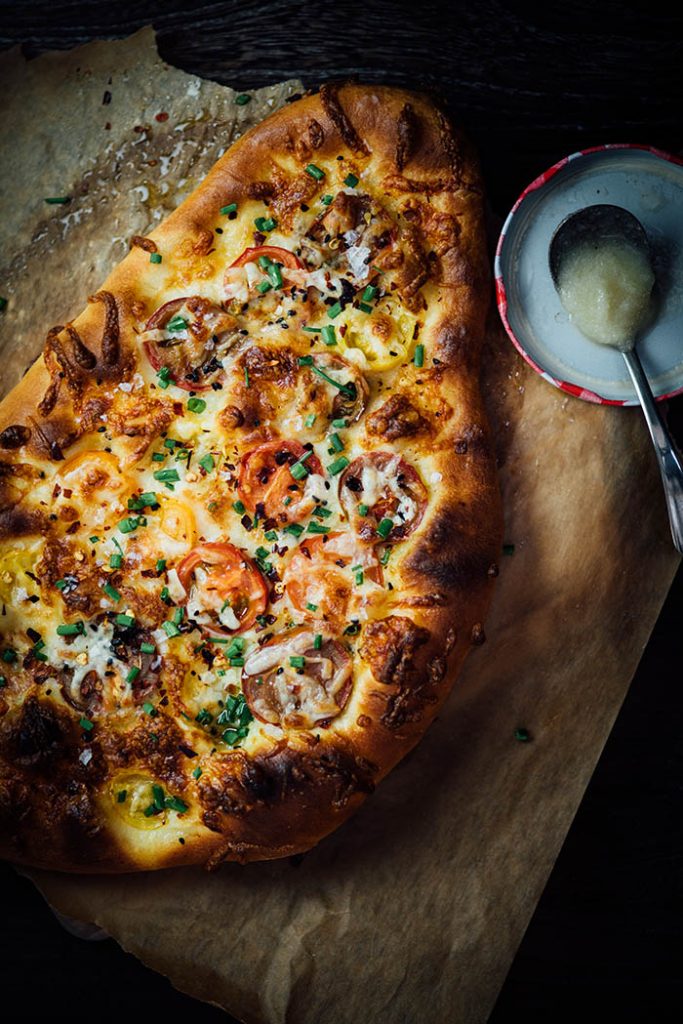 I like to pair dishes, like a Margherita pizza, with bold, unconventional flavors, like coriander and nigella seeds. Using cracked coriander seeds, rather than ground, enhances the flavor of the chili flakes. Nigella seeds pair well with tomatoes. A little sprinkle over this fresh tomato-topped pizza gives the tomatoes a fragrant, nutty flavor. You can also use olive oil instead of ghee if you prefer.
— Nik Sharma
Sub-recipes to make the pizza:
Naan
Ghee
Reprinted from Season by Nik Sharma with permission by Chronicle Books, 2018.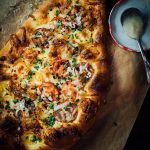 Servings
2
individual pizzas
Servings

2

individual pizzas
Servings

2

individual pizzas

Servings

2

individual pizzas
Servings:
individual pizzas
Place a baking steel or pizza stone on a rack in the middle of the oven and preheat the oven to 500°F [260°C] for 30 minutes. Divide the dough into two equal parts and shape into balls. Cover one ball with a kitchen towel. On a clean, lightly floured work surface, roll the remaining ball into a circle ¹/8 in [4 mm] thick and 12 in [30 cm] in diameter. Cover loosely with a kitchen towel. Repeat with the second ball of dough.

Crack the coriander lightly with a mortar and pestle, add the nigella seeds and chili flakes, and set aside.

Prepare one pizza at a time: Flip over a baking sheet, wrong-side up, and place a sheet of parchment paper on the baking sheet. Sprinkle 1 tsp of the flour and 1 tsp of the cornmeal on the parchment to coat evenly. Place a rolled-out circle of dough on top of the paper and drizzle with a little melted ghee. Spread out half of the tomatoes over the dough. Sprinkle with half the mozzarella and 1 Tbsp of the spices in the mortar. Slide the circle of dough onto the preheated baking steel, discard the parchment paper, and shut the oven door. Lower the heat to 425°F [220°C] and bake until the edges of the crust start to turn golden, 10 to 12 minutes. Garnish with half the chopped chives and flaky salt, and drizzle with a little extra ghee. Repeat with the remaining circle of dough and serve the pizzas hot.