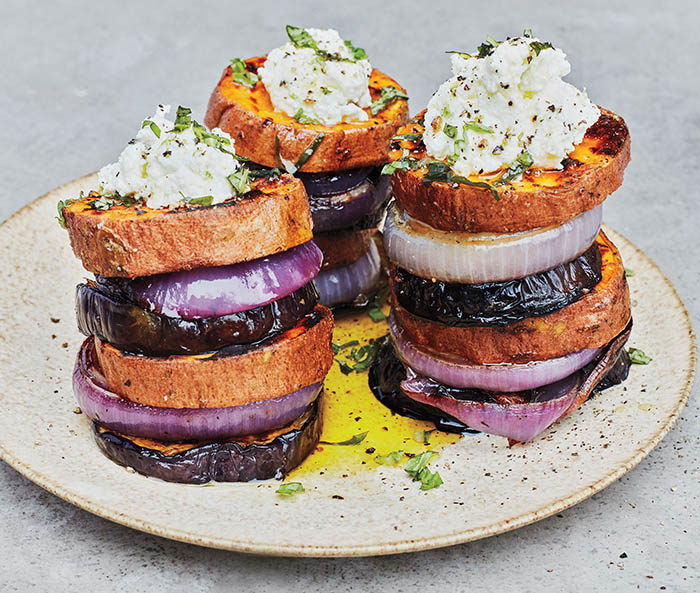 You can be endlessly inventive with vegetable stacks, discovering your own favorite combinations. You want to cut the vegetables about 1/2 inch thick, and then layer twice—any higher than that and your stack is likely to topple. Before you start to grill, read through Step 3 to help you time the vegetables so they all finish together.
—Mark Bittman
• ON-DEMAND: Listen to Faith talk to Mark about this recipe, as well as others from Mark's cookbook, How to Grill Everything. •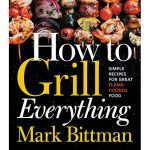 Excerpted from HOW TO GRILL EVERYTHING © 2018 by Mark Bittman. Photography © 2018 by Christina Holmes. Reproduced by permission of Houghton Mifflin Harcourt. All rights reserved.

Start the coals or heat a gas grill for medium-high indirect cooking. Make sure the grates are clean.

Brush the vegetable slices with the oil, coating them completely; sprinkle with salt and pepper on both sides. Whisk the ricotta and lime zest and juice together in a small bowl with some salt and pepper. Taste and adjust the seasoning.

Put the onions on the grill first, directly over the fire. Close the lid and cook, turning once, until the slices brown and are soft all the way through, 8 to 10 minutes per side. Check them a few minutes after you put them on; if they're coloring too quickly, move them to a cooler part of the fire. Put the sweet potato on the indirect side of the grill and cook, turning once, until you can pierce them all the way through but they're not mushy, about 6 minutes per side, then move them directly over the fire and cook, turning once, until brown, about 2 minutes per side. Put the eggplant over direct heat and cook, turning once, for 5 to 8 minutes per side; it's done when brown and tender. Transfer everything to a platter as it finishes.

To make stacks, start with eggplant on the bottom, followed by onion, then sweet potato; repeat. Top each stack with a generous dollop of lime ricotta, garnish with basil, and serve with the remaining ricotta in a small bowl on the side.
Variations
Sweet Potato–Eggplant Stacks with Burrata and Parlsey-Cilantro Pesto
This creamy cousin of mozzarella is a real indulgence: Omit the ricotta, lime zest and juice, and basil and make Parsley-Cilantro Pesto. Use 4 of the smallest burrata you can find; if you can only find large burrata, get one and quarter it. Put a burrata (or wedge of burrata) next to each stack along with a spoonful of the pesto.
Eggplant-Zucchini Stacks with Spiced Yogurt
An excellent use for big zucchini: Heat the grill for direct heat. Substitute 1 large zucchini for the sweet potato; don't peel. Replace the ricotta with yogurt and the lime zest and juice with 1 teaspoon ras el hanout or more to taste. Substitute mint for the basil. Cook the zucchini slices over direct heat; they will only take a couple minutes on each side to cook through.
Portobello-Eggplant Stacks with Orange-Pepper Ricotta
The portobello adds real heartiness: Substitute 4 portobello mushrooms, caps brushed clean and stems removed, for the sweet potato (use only one per stack). Substitute the grated zest of 1 orange and 2 tablespoons orange juice for the lime zest and juice, and add 1 teaspoon black pepper. Omit the basil. Grill the portobellos over direct heat until they're juicy and tender throughout, 3 to 5 minutes per side. Start the stack with the portobello, then the onion and eggplant, then another layer of onion and eggplant.
Parsley-Cilantro Pesto
Make the dipping sauce: Put the parsley, lime juice, garlic, and remaining 2 tablespoons oil in a blender or food processor and process until chopped, stopping to scrape down the side of the container if necessary. Add 1 cup lightly packed fresh cilantro leaves and some salt; process until smooth. Transfer to a small serving bowl.
Ras el Hanout
Stir together 1 teaspoon each black pepper, paprika, ground ginger, coriander, cinnamon, cardamom, turmeric, and freshly grated nutmeg. Add 1/2 teaspoon each cayenne, ground fennel seeds, allspice, and cumin, and 1/4 teaspoon ground cloves and stir to combine. Makes about 3-1/2 tablespoons.