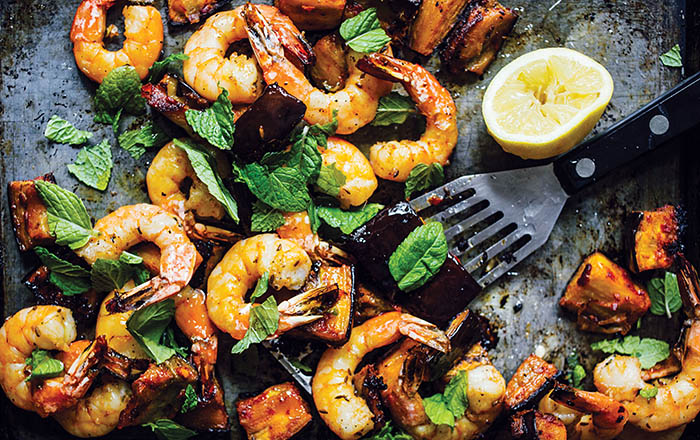 File this under: sheet-pan supper, the shrimp edition. Okay, I suppose that technically this requires two sheet pans, since I roast the eggplant separately from the crustaceans to give everything enough elbow room to sizzle and brown without steaming. The eggplant, tossed with spicy harissa, olive oil, and cumin, goes into the oven first to give it a head start, then the quicker-cooking shrimp goes in next. That way, it can all emerge at the same time, with the eggplant golden and crisp and the shrimp pink and juicy.
You may notice that I use cumin in two different ways in this recipe, both ground and the whole seeds. I find the ground spice to be earthier and rounder in flavor, while the whole seeds are more pungent. When combined, they give you a fuller, richer hit of cumin.
— Melissa Clark
ON-DEMAND: Listen to Faith and Melissa dish about the recipes in Dinner on The Faith Middleton Food Schmooze®.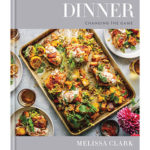 Reprinted from Dinner. Copyright © 2017 by Melissa Clark. Photographs copyright © 2017 by Eric Wolfinger. Published by Clarkson Potter/Publishers, an imprint of Penguin Random House, LLC.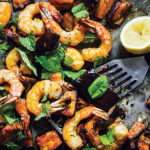 In a small bowl, whisk the 1/3 cup olive oil with the harissa, ground cumin, and 1 teaspoon of the salt. Spread the eggplant chunks on a large rimmed baking sheet and toss with the harissa mixture. Roast, tossing occasionally, until lightly browned all over, about 20 minutes.

While the eggplant is cooking, pat the shrimp very dry with paper towels. In a bowl, toss the shrimp with the remaining 1-1/2 tablespoons oil, cumin seeds, lemon zest, remaining 1/4 teaspoon salt, and black pepper. Arrange the shrimp in a single layer on another rimmed baking sheet.

Raise the oven temperature to 425°F. Transfer the shrimp to the oven, and roast along with the eggplant until the shrimp are just opaque and the eggplant is golden brown and tender, about 7 to 10 minutes. If the shrimp cooks through but the eggplant needs more time, remove the shrimp from the oven and continue to roast the eggplant until browned.

Combine the shrimp and eggplant on a large platter or on individual serving plates. Drizzle with olive oil and lemon juice, top with mint leaves, and serve.