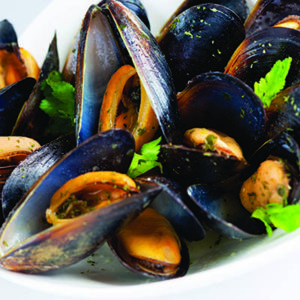 Davina Anagnos of City Fish Market recommends this quick and easy shellfish dish for a simple yet satisfying meal on Mother's Day. No muss, no fuss, and guaranteed to put a smile on any seafood-loving mother's face!
Get the scoop on a few of our favorite seafood markets in Connecticut, Rhode Island, and more, and hear local author Mike Urban describe more seafood recipes from his book in this recent episode of The Faith Middleton Food Schmooze®.
Recipe excerpted from The New England Seafood Markets Cookbook by Mike Urban, published by Countryman Press, ©2016.
Photo: Gayane/Shutterstock.com, courtesy of the publisher.

Place the mussels in a pot with the shallots, garlic, and white wine. Cover the pot and steam until the mussels open. Discard any mussels that remain closed after the steaming, then remove the cooked mussels and set them aside.

Reduce the remaining liquid in the pot by half over medium high heat. Add the butter, parsley, salt, and pepper. Pour the liquid over the cooked mussels and serve immediately.