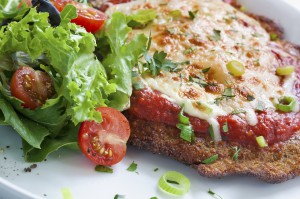 This gluten-free, one-pot dish is delicious, and perfect for a weeknight  meal.

In a large Dutch oven, heat the oil over medium-high heat. Add the garlic and cook until golden, about 1 minute. Meanwhile, season the chicken generously with salt and pepper and lightly dredge in the flour. Working with 2 pieces at a time, add the chicken to the Dutch oven and cook, turning once, until browned, about 4 minutes total. Transfer to a platter.

Add the rice to the Dutch oven and stir to coat, about 2 minutes. Add the tomatoes, broth and 2 teaspoons salt. Bring to a boil. Top with the chicken, tomato sauce, basil, Parmesan and mozzarella. Cover, reduce the heat to low and gently simmer until the chicken and rice are cooked, 30 to 40 minutes. Serve hot.