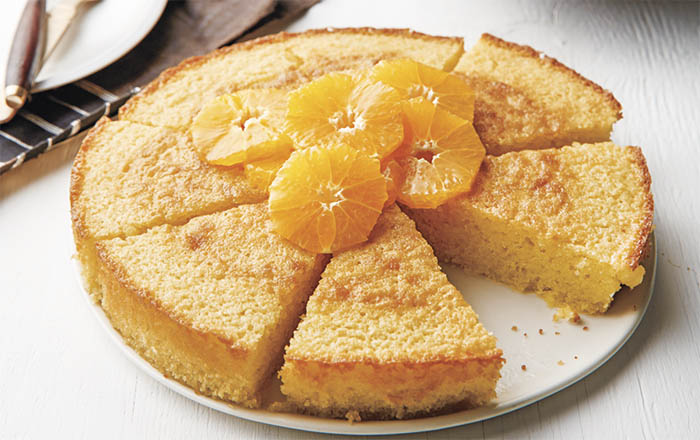 I came up with this luscious, easy-to-make cake while playing around with gluten-free flour, but it works beautifully with all-purpose, too. Almond flour makes it extra moist, and, along with the orange blossom water (available at Middle Eastern and gourmet markets), transports you to the south of Spain. I serve the cake with crème fraîche and berries or with oranges, peels cut off and sliced into rounds strewn on top, but it's also lovely with a simple dusting of confectioners' sugar. Take the butter, eggs, and milk out of the refrigerator 30 minutes ahead to warm up so they can be incorporated more readily into the batter.
Text excerpted from COOKING SOLO © 2016 by Klancy Miller. Reproduced by permission of Houghton Mifflin Harcourt. All rights reserved. Photo: © 2016 Tara Donne.
Learn more about Klancy's book and listen to the show to hear her describe this and other recipes.

Preheat the oven to 350°F. Generously butter the bottom and sides of a 10-inch round cake pan. Cut a circle of parchment paper to fit the circumference of the pan bottom, butter both sides, and place it in the pan.

In a large bowl, use a wooden spoon to cream the butter and sugar until well blended, light, and fluffy. Add the eggs, one at a time, beating well after each addition. Stir in the milk, orange blossom water, and vanilla.

In a medium bowl, whisk the flours, baking powder, and salt until well combined. Pour the dry ingredients into the wet ingredients and beat with a handheld electric mixer on medium speed until the batter is creamy, 1 to 2 minutes.

Spread the batter into the prepared pan and place it in the oven. Bake for about 30 minutes, or until the top is golden brown, the sides pull away from the pan, and a sharp knife inserted in the middle comes out clean.

Allow the cake to cool in the pan for 10 minutes before unmolding it. Serve warm or at room temperature, garnished with crème fraîche and raspberries, if desired. Or top the cake with the orange rounds, if desired. Another option is simply dusting it with confectioners' sugar. Leftover cake will keep, well wrapped in plastic, at room temperature for up to 4 days or in the freezer for up to 2 months. Thaw it in its wrapper at room temperature.