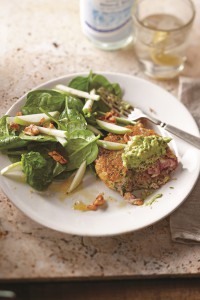 From Faith: There is nothing like a fresh tuna burger, but this one dazzles, whether or not you're a high-protein paleo-eater, as I am. You can buy the tuna fillets frozen or fresh, before dicing and adding flavors to the mixture that make this burger mouth-watering… fresh chives, shredded lemon peel, and golden flaxseed meal to make the patty crisp. We enjoyed these burgers on the show, thanks to Chris Prosperi, who served them with salad and sliced avocado, chopped apple and a garlic vinaigrette.
TIP: Careful not to process the fish mixture too much in your food processor; it will become tough.

Roasted Garlic Vinaigrette
Thaw fish, if frozen. Rinse fish, pat dry with paper towels. Cut fish into 1-1⁄2-inch pieces. Place in a food processor, process with on⁄off pulses until finely chopped. (Be careful not to overprices or you'll toughen the patty.) Set fish aside.

In a medium bowl combine egg white, 1⁄4 cp of the flaxseed meal, tarragon, chives, and lemon peel. Add fish, stir gently to combine. Shape fish mixture into four 1⁄2-inch-thick patties.

Place remaining 1⁄2 cup flaxseed meal in a shallow dish. Dip patties into flaxseed mixture, turning to coat evenly.

In an extra-large skillet heat oil over medium heat. Cook tuna patties in hot oil for 6 to 8 minutes or until an instant-read thermometer inserted horizontally into patties registers 160°F, turning once halfway through cooking time.

Meanwhile, for the aïoli, in a medium bowl use a fork to mash avocado. Add Paleo Mayo, lemon peel, lemon juice, and garlic. Mash until well mixed and almost smooth.

Place the spinach in a medium bowl. Drizzle spinach with Roasted Garlic Vinaigrette, toss to coat. For each serving, place a tuna patty and one-fourth of the spinach on a serving plate. Top tuna with some of the aïoli. Top spinach with apple and walnuts. Serve immediately.
Roasted Garlic Vinaigrette
Preheat oven to 400°F. Cut 1⁄4 inch from narrow end of garlic bulb; drizzle with 1 teaspoon of the olive oil. Wrap garlic in foil. Roast for 30 to 35 minutes or until garlic is golden brown and very soft. Cool; turn upside down and squeeze garlic cloves from the bulb into a small bowl. Mash into a smooth paste.

In a medium bowl combine lemon juice and oregano. Let stand for 5 minutes. Whisk in remaining olive oil. Whisk in roasted garlic. Let vinaigrette stand at room temperature for 2 hours before using or refrigerating. Store in refrigerator for up to 1 week.
Let egg stand at room temperature for 30 minutes.

Crack egg into a tall, narrow glass jar (a wide-mouth pint canning jar works well). Add lemon juice and dry mustard.

Carefully pour in oil. Let egg settle down to the bottom of the jar, under the oil.

Insert an immersion blender and push it all of the way to the bottom of the jar. Turn power on high and let it run for 20 seconds without moving it. The Mayonnaise will start forming and rising to the top of the jar. Slowly start raising the blender until it reaches the top of the jar. Use mayonnaise immediately or store in the refrigerator for up to 1 week.