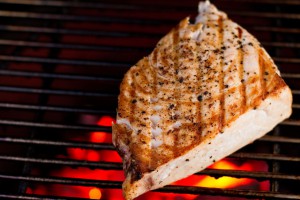 This recipe's a knock-out winner. Think zesty red sauce of olives, garlic, capers, tomatoes, and a secret ingredient — cocoa powder! — creating a fabulous sauce-bath for a meaty swordfish steak. In the way that Sicily has been influenced by many cultures, so is this dish from one of the great food places on earth. When Chris Prosperi made this for us, he served it alongside salad greens, though we all suddenly craved it on pasta or couscous. (Okay, we would have eaten it on just about anything. That tasty.)
It's from the new book, International Night, co-created by writer and food-lover Mark Kurlanski and his daughter, Talia. Mark told us he and Talia played a weekly game, spinning a globe, and depending on where Talia randomly pointed on that globe, they would learn to cook a meal together from that place. (Many of the recipes are ones Mark has collected from his travels.) Talia was 9 when she and Mark began this "fun" project; meanwhile, publishers thought it would be a great book. We think they're right, especially after tasting this knock-out Sicilian dish. Chocolate might sound crazy but we assure you it's not. You can't taste that it's there, but it adds an intriguing down-low base note. (By the way, some French cooks sneak cocoa into coq au vin to mimic rooster blood from the old days.)
This dish just makes us really happy. We couldn't get enough of it. — FM

Place the pine nuts in a skillet with a tablespoon of the olive oil and keep them moving in the pan over medium heat until they are golden but not burned. Set them aside and add the rest of the olive oil. Sauté the onion, garlic, salt, pepper, capers, olives, tomatoes, and balsamic vinegar. After the tomatoes have cooked down to a chunky sauce, add the toasted pine nuts and the cocoa powder.

Place the raisins in a strainer and plunge them into boiling water, remove and drain immediately. Add them to the mixture and stir well with a wooden spoon.

Grill the swordish. Put on serving plates and pour the sauce on top. Serve with steamed asparagus.