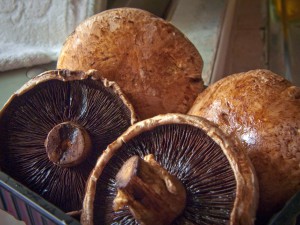 Alex Brown and Evan George, authors of Lust for Leaf, describe themselves as "bearded, mescal-swilling Martha Stewarts." They co-write as Hot Knives at the site urbanhonking. By now you get the picture that they love food and, despite being vegetarians, have no use for rules or being hemmed in. Their recipes are original, ranging from veggie hot dogs made from scratch, to the one we're focusing on, po' boys. No seafood in sight.

Portobello Mushroom Po' Boys
Portabello Mushroom Po' Boys
Prepare mushrooms by tearing each into strips (in half if small, into quarters if big). Put a sauté pan on high heat, add olive oil, and toss in mushroom strips. Cook for 2 to 3 minutes, shaking or stirring often, or until shrooms begin to release their liquid and some pieces start to brown. Remove and set aside to cool. (To double or triple recipe, roast shrooms for 6 minutes on a tray in a 350° F oven instead of on stove.)

Set a deep pot filled with the frying oil over a high flame. Let heat 8 to 10 minutes. Meanwhile, prepare a fry batter by mixing the flour, cornmeal, salt, and baking powder. Then add the beer slowly and whisk with a fork until creamy and wet enough to coat mushrooms. (Add tablespoon more beer if it seems too dry.)

Batter a test shroom. Dip a mushroom strip into fry batter, shake off excess, and carefully drop into hot oil. It should immediately sizzle and brown within 30 seconds. Your oil is hot.

Repeat with a small handful of shrooms at a time, coating them and smooshing them loosely together to form a garbled ball. Drop in the oil and flip after 15 to 20 seconds using tongs, slotted spoon, or a spider. Once golden, but not brown, fish them out, and let drip dry on paper towels.

Wait for the shrooms to cool and relax and then drop them again for another 5 seconds to make crisp. Remove.

Serve by opening each bun and pinching out about a teaspoon of extra bread to make room for your sprinkling of cabbage topped by the "oysters"/portobellos. Slather bread with remoulade, place shrooms and cabbage, then finish with a line of hot sauce.
Pop each radish off from its leafy stem and wash thoroughly in a bowl of water, then strain and pile on your cutting board. Mince the radishes one at a time as thinly as possible: slice lengthwise four times, then set two of the slices aside while stacking the remaining two, then slice this stack lengthwise again, and rotate to slice width-wise. Repeat until you have a pile of tiny radish cubes.

Combine the radishes with veganaise, minced chives, and lime juice and stir. Crack more fresh black pepper than seems necessary and salt to taste.