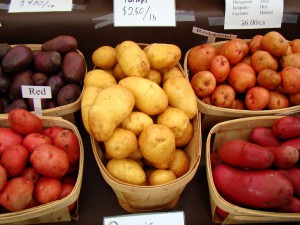 Alex Province is an Ina Garten fan and likes to make a version of her potato salad. We think it's a refreshing twist to use fresh radishes to give it that onion-like crunch. (It was also Alex's imaginative idea to use a jar of Indian ghee (butter) for a potato salad, and to add curry powder.)

Cook potatoes in salted water for 15 minutes until barely tender. Drain and put back into hot pot and cover to keep warm.

In a bowl mix mayonnaise, buttermilk, Dijon mustard, whole-grain mustard, dill, and season with salt and pepper.

Quarter the potatoes and place into a large bowl.

Drizzle the dressing over the potatoes to moisten. Add the bacon, celery, onion and radishes.

Toss well and season. Refrigerate for at least 2 hours.