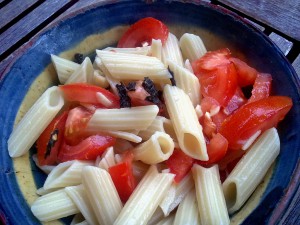 We've had potato salad and green salad but we haven't had nearly enough pasta, so we asked senior contributor Chris Prosperi for one of his favorite easy pasta recipes using summer tomatoes.
The sauce is made from the juice of the fresh tomatoes, white wine, a little reserved pasta cooking water, garlic and crushed red pepper. Mix in some chopped fresh arugula with grated Parmesan and you're on your way to Pasta Heaven. — FM

In a large sauté pan lightly heat the olive oil on medium low. Add the garlic and cook for about 1 minute or until lightly browned. Toss in the chopped tomato and cook for 2-3 minutes or until the tomatoes are soft. Add the wine, cooked pasta, chili pepper and salt. Reduce the wine and heat the pasta thoroughly. Then toss in the arugula and parmesan cheese.