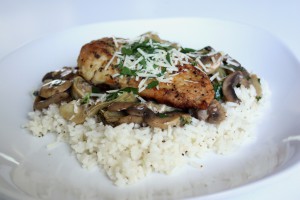 Chris Prosperi loves home cooks, and that's one reason why we love him. Both Faith and Chris like making a quick pan sauce after searing a chicken breast on the stove-top. Follow these simple instructions to make it Chris' way.
Faith makes her chicken breasts the same way, but sometimes adds a squeeze of fresh lemon juice before serving.
Salt and pepper the chicken breasts. Put canola oil in a skillet on medium high heat. Cook the breasts for one to two minutes on each side until lightly browned and cooked through.

Remove them from the pan and set them aside.

In the pan, add dry white wine. Scrape up the brown bits at the bottom of the pan. Add a pat of butter and swirl to melt.