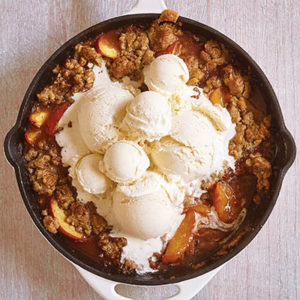 If there is one fruit that you can count on my family devouring, it's peaches. I practically stalk our local farmer's market, waiting for them to arrive each summer. Sweet and juicy, they're absolutely divine in all sorts of dishes, from appetizers to desserts. But let me tell you, if you are looking for a dessert that will garner umms, ahhhs, and more yums than you can imagine, this peach crisp is your ticket! I use less butter and sugar than traditional recipes, leaving you with the heady taste of peaches instead of sugar. If peaches are not in season, you can substitute another in-season fruit such as apples, pears, blueberries, or blackberries. For apple and pear crisps, I like to add 1/2 teaspoon of ground cinnamon.
— Robyn Stone
• ON-DEMAND: Listen to Faith and Robyn discuss this recipe on The Faith Middleton Food Schmooze®. Subscribe to the podcast and never miss a drop of pleasure. •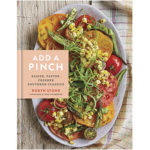 Excerpted from Add a Pinch: Easier, Faster, Fresher Southern Classics by Robyn Stone. Published by Clarkson Potter Publishers, an Imprint of the Crown Publishing Group, a division of Penguin Random House LLC. ©2017 by Robyn Stone, Photographs © 2017 by Helene Dujardin.

Preheat the oven to 350°F. Line a rimmed baking sheet with foil (to catch anything that might bubble over).

In a 12-inch ovenproof skillet set over medium heat, melt 1 tablespoon of the butter. Add the peaches and 1/4 cup of the brown sugar. Cook, stirring, until the juices thicken into a light syrup, about 8 minutes. Remove the pan from the heat.

In a medium bowl, combine the remaining 4 tablespoons butter, the remaining 1/2 cup brown sugar, the flour, pecans, and salt. Spread the mixture over the peaches. Place the skillet on the lined baking sheet.

Bake until golden brown and bubbly, about 30 minutes. Serve warm.
Freezer Friendly Tip
Let the cooked peach crisp cool completely. Wrap tightly in plastic wrap, then foil. Store in a freezer bag in the freezer for up to 3 months. To serve, thaw in the refrigerator overnight. Reheat in a 350°F oven until warmed through, 10 to 15 minutes.