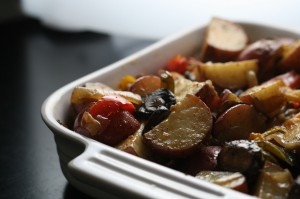 Easy, we kept telling our online contributor, please make it delicious and easy. And so she has developed a recipe with a great flavor profile and ingredients that we want at Thanksgiving. Danielle admitted that when she tested this recipe a second time, she stood at her kitchen counter and ate the whole pan. Now that's the kind of recipe we love on The Food Schmooze Party®.
Danielle Padula is a food writer and works in the Test Kitchen at Fine Cooking magazine.

Position rack to the center of the oven and heat to 350 degrees. In a large baking dish, stir to combine the potatoes, onions, oil, rosemary, and garlic. Sprinkle with a dash of salt and pepper.

Spread out the potatoes so that they're not touching in order to create a crispy outside, and roast for 45 minutes or until potatoes are golden brown.

Immediately after removing pan from the oven (it must be sizzling hot,) add the wine and stir to coat. Any bitterness from the alcohol should evaporate when touching the hot pan, leaving you with an added depth of pleasant flavor. Remove any garlic skin and serve hot.
* The easiest way to peel pearl onions is to blanch them (add the onions to boiling water for just a minute then plunge them into an ice bath.) The onions will easily pop out of their skins when squeezed. Be sure that they're dry before adding them to the baking dish!