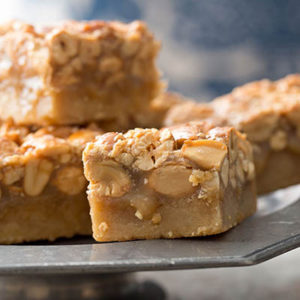 These sesame bars are our best seller, by far. Lots of brown sugar combined with a thick, raw honey produce the caramel that holds the nuts and sesame seeds together over a thick shortbread crust. Cut them into small pieces; they are very rich and one or two bites is enough. Read the instructions carefully: the bars come out of the oven very underbaked and set up as they cool. Don't be tempted to bake them longer because the caramel will be too hard and not chewy.
— Maura Kilpatrick
On-Demand: Listen to Faith and Ana talk about Maura's Seasame Cashew Bars (as well  as other recipes like Green Apple Fattoush, creamy Walnut Hummus, and Maura's amazing  Tahini Hot Chocolate) when Ana was a guest on The Faith Middleton Food Schmooze®.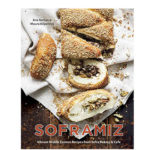 Reprinted with permission from Soframiz by Ana Sortun and Maura Kilpatrick, 2016. Published by Ten Speed Press, an imprint of Penguin Random House LLC.
Photographs copyright © 2016 Kristin Teig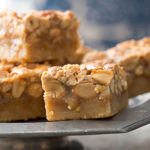 Line a 13 by 9-inch pan with aluminum foil, making sure it extends over the sides. Very lightly spray or butter the foil.

To make the crust, combine the flour, butter, brown sugar, and salt and in a food processor fitted with a metal blade. Pulse until the butter forms pieces the size of small pebbles, 20 to 30 seconds. Pour the crust crumbs into the prepared pan and press down to form an even layer.

Cover and refrigerate for at least 30 minutes, or up to overnight.

Preheat the oven to 350°F.

Bake the crust until golden, about 25 minutes. Set aside to cool.

While the crust is cooling, make the filling. Combine the cashews, sesame seeds, and salt in a bowl. Mix well and set aside.

Melt the butter in a saucepan over low heat. Add the granulated and brown sugars and honey and cook over medium heat, whisking constantly, until the sugar dissolves and begins to turn to caramel, forming large bubbles and thickening, or reaches 240°F on a candy thermometer. Remove from the heat and whisk in the cream and vanilla. Using a rubber spatula, mix in the cashew mixture until well combined.

Pour the filling on top of the baked crust in an even layer. Return the pan to the oven and bake until the caramel bubbles along the sides of the pan only and the center is still liquid, 26 to 28 minutes. The filling will appear unbaked. It is very important not to overbake. The filling will set up as it cools.

Set aside to cool completely and then cover and refrigerate overnight.

Lift the foil out of the pan to remove the bars in one large block. Cut into thirty-six 1-1⁄2-inch squares.

Store in an airtight container in the refrigerator for up to 2 weeks.
Sesame Seeds – Sesame seeds may be the oldest condiment known to man. They have a high oil content and are the main ingredient in tahini. You can buy them toasted or untoasted. We prefer to buy them toasted for baking purposes because they are drier and will stick to what you are baking more easily. To toast your own sesame seeds, use a small nonstick pan over medium-low heat and spread sesame seeds in an even layer in the pan. Stir them every 30 seconds and continue to toast them until they are golden brown, about 4 minutes.
Honey - We love experimenting with different flavors of honey. You can really alter the flavor of a dish by using a bold-flavored honey. You can brush Sesame Financiers with a chestnut honey, buckwheat honey, or pine honey if you can find it. Go with something more floral on the Persian Love Cake; our favorites are linden flower honey and sunflower honey. For these Sesame Cashew Bars, we use a raw honey from Champlain Valley Apiaries in Vermont, because we prefer something thick to create the caramel layer. Don't be afraid to experiment or splurge on a special jar of honey, or start a honey collection of your own.