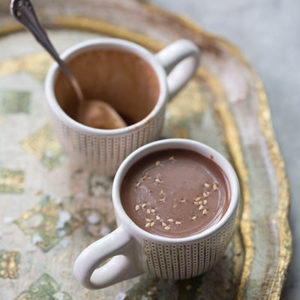 You know you're obsessed with tahini when the thought of drinking it seems a perfect idea. This is a very rich treat, best served in small cups with sesame seeds and a touch of flaky salt on top. Use a combination of bittersweet and smooth milk chocolate for the perfect texture and richness. This little cup is an indulgence, so find a good-quality chocolate brand, such as Valrhona, and choose a bittersweet chocolate with 70 percent cacao.
— Maura Kilpatrick
On-Demand: Listen to Faith and Ana talk about Maura's hot chocolate (as well  as other recipes like Green Apple Fattoush, Sesame Cashew Bars, and warm Walnut Hummus with Pomegranate and Cilantro) when Ana was a guest on The Faith Middleton Food Schmooze®.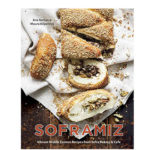 Reprinted with permission from Soframiz by Ana Sortun and Maura Kilpatrick, 2016. Published by Ten Speed Press, an imprint of Penguin Random House LLC.
Photographs copyright © 2016 Kristin Teig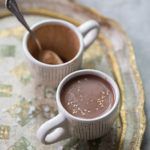 Combine the chocolates in a bowl and set aside.

Combine the milk and tahini in a saucepan over medium heat. Bring to just under a boil, whisking to incorporate the tahini.

Pour the milk mixture into the bowl of chocolate and set aside for 3 to 5 minutes, until the chocolate is almost melted. Stir with a rubber spatula until the chocolates all melt. Once the mixture is smooth, whisk vigorously or use an immersion blender to blend until smooth. Add the salt.

To serve, pour into small serving cups and top with toasted sesame seeds and a pinch of fleur de sel.
Sesame Seeds - Sesame seeds may be the oldest condiment known to man. They have a high oil content and are the main ingredient in tahini. You can buy them toasted or untoasted. We prefer to buy them buy them toasted for baking purposes because they are drier and will stick to what you are baking more easily. To toast your own sesame seeds, use a small nonstick pan over medium-low heat and spread sesame seeds in an even layer in the pan. Stir them every 30 seconds and continue to toast them until they are golden brown, about 4 minutes.
Tahini - This paste is made with hulled sesame seeds. It has a bittersweet, nutty flavor and a wonderful creamy texture. Tahini is an essential ingredient in many signature Middle Eastern dishes, among them hummus and baba ganoush. Some commercial tahinis are very bitter, often rancid, and have a chalky texture. If the tahini seems bitter, try adding some salt, which will help pull some of the bitterness out. As the sesame paste sits, the oil separates, so the mixture should be stirred before it's used. We recommend storing it in the refrigerator after it's opened.
We love the brand Tohum, which is a dark-roasted organic tahini from Turkey (tohum.com). It is available at specialty grocers or on Amazon. We also recommend the super-fresh tahini from Brooklyn Sesame, which you can order at brooklynsesame.com, and the ultracreamy Soom brand from Philadelphia (soomfoods.com), which you can find online from several sources.