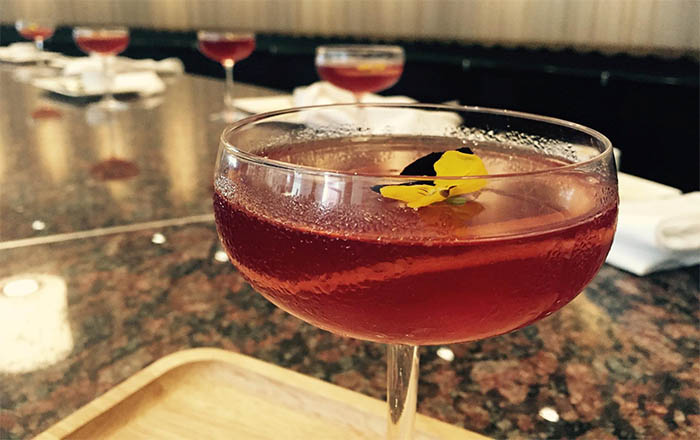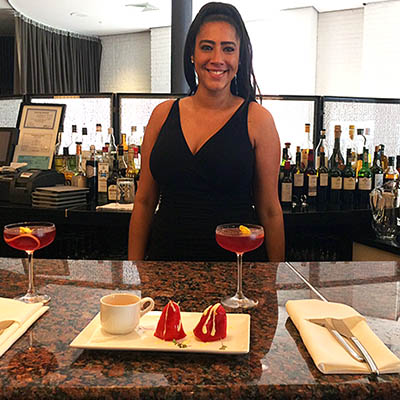 An exquisite cocktail, made by an exquisite woman. That's what was waiting for us when we biked from the corner of Crown and Temple St. over to High St. on the Elm City Party Bike. Lucky for us goddess/bartender Michelle Draper was working her magic behind the bar at Olea, our first stop.
• ON-DEMAND: Listen to Faith, the gang, and a dozen happy Elm City Party Bike peddlers during their visit to Olea. •
Michelle's creation, a play on the classic Vesper, was delicious—like everything at Olea—and the presentation was something to behold. Grapefruit peel snaked around the glass, while an edible flower floated on top.
The cocktail was paired with chef and co-owner Manuel Romero's Tomato Gazpacho and Piquillos de Arroz Valenciano (piquillo peppers stuffed with saffron rice, chicken, squid, and shrimp). Perfection, all the way around.
Manager, Juan Carlos Gonzalez, and Chef Romero were gracious to host our party bike revelers, and Michelle was equally generous, allowing us to share her recipe with you. If you'd like her to make you one personally, you'll find her at Kala Bistro on Whitney Avenue in North Haven. Kala Bistro is Olea's sister-restaurant, featuring global comfort food like Bao Pork Belly, Short Rib "Bourguignon," and Ratatouille Lasagna.
Of course we're going! But we're jumping in our cars for that one.
Photo: Courtesy of Olea (top). Photo of Michelle by Robyn Doyon-Aitken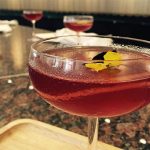 Pour all ingredients into a cocktail shaker with ice and shake. Pour into a martini glass and garnish with grapefruit peel and an edible flower.
If you listen to the show, you'll note that as a final ingredient, Michelle puts a little love in every one she makes. We suggest you do the same. Why not?