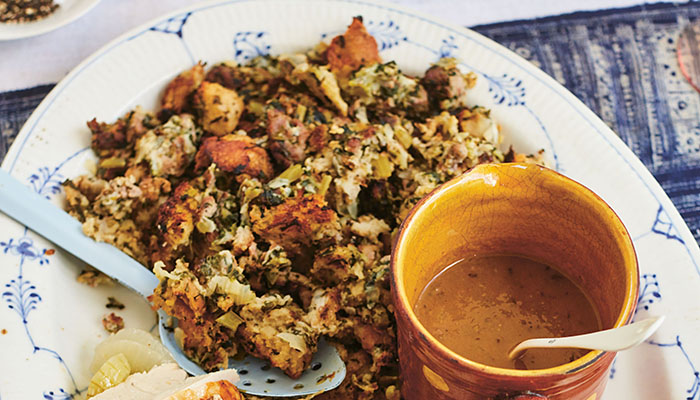 Since stuffing rarely appears separate from Thanksgiving, it's an inherently nostalgic and meaningful dish. I bake my stuffing on a sheet pan so the crispy-to-soft ratio is basically one to one. If you prefer it softer, bake it in a smaller vessel like a baking dish.
— Julia Turshen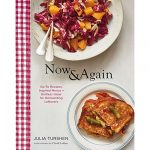 Reprinted from Now & Again by Julia Turshen with permission by Chronicle Books, 2018. Photo copyright © 2018 David Loftus.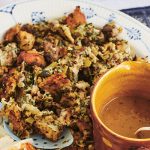 Preheat your oven to 400°F [200°C].

Spread the bread cubes on a sheet pan and toast, stirring now and then, until lightly browned and crisp, about 10 minutes. Set the bread aside to cool. You can skip this step if you use stale bread.

Meanwhile, put the olive oil into a large pot over medium-high heat. Crumble in the sausage and cook, stirring now and then, until all of the fat is rendered and the meat is crisp and browned, about 15 minutes. Add the onions, celery, garlic, and 1 tsp salt to the pot and turn down the heat to medium. Cook the vegetables, stirring now and then, until slightly softened, about 10 minutes. Add the sage and stock and turn the heat to high. Once it is at a boil, turn off the heat. Stir in the spinach, parsley, and reserved bread. Taste the mixture and season with salt if more is needed. Add the eggs and give everything one good final stir.

Line the sheet pan you toasted the bread on with parchment paper. Transfer the stuffing mixture to the pan and spread it out in an even layer. Dot the top with the butter. Bake until the top is browned and the edges are nice and crispy, about 25 minutes. Serve hot.