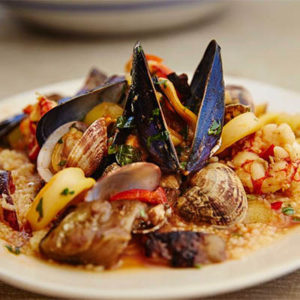 In western Sicily, couscous is often served as an appetizer. Here, a bounty of local seafood—swordfish, shrimp, calamari, and mussels—is piled on top for a hearty main course. The cooking liquid, a fragrant tomato-seafood broth, is rich and flavorful, so be sure to serve the seafood and couscous doused with plenty of it—the couscous will soak much of it up.
Excerpted with permission from Saveur magazine
April 2016, Issue #182
Recipe by Saveur editors
Photo by William Hereford.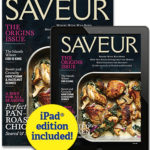 Editor-in-Chief Adam Sachs and Test Kitchen Director Stacy Adimando talked with Faith about this recipe in a special fundraising edition of The Food Schmooze®. With a contribution of $5 a month, you can subscribe to Saveur and support The Faith Middleton Food Schmooze® at the same time. We hope you will. Thank you!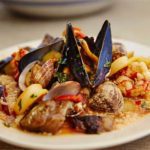 In a large Dutch oven, warm the olive oil over medium heat. Add the celery, bell pepper, onion, and carrot and cook, stirring, until soft, about 12 minutes. Add the tomato paste and cook, stirring, for 2 minutes. Increase the heat to high, add the tomatoes, garlic, and zucchini, and cook, stirring, until they start to brown lightly, about 2 minutes. Pour in the fish stock and saffron and bring to a boil.

Arrange the swordfish in the stock, followed by, in this order, the shrimp, mussels, calamari, and cockles, then cover the pan and cook, shaking the pan occasionally, until the fish and shrimp are cooked through and the mussels and cockles open, about 10 minutes.

Remove the soup from the heat, stir in the almonds, parsley, and pine nuts, and season with salt and pepper. Divide the couscous among serving plates, shaping it into a mound, then ladle over the vegetables, broth, and seafood to serve.