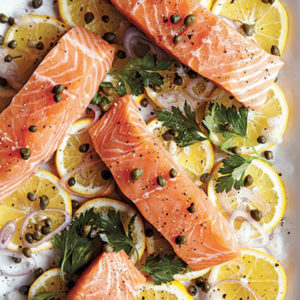 My brother has a great recipe for salmon that's cooked in foil packets—my scribbled recipe card actually says "Ivan's Fish." Here, I've adapted it for the slow cooker.
The low, slow heat of a slow cooker is actually perfect for shallow poaching. Rather than submerging the salmon in the poaching liquid, I rest it on a bed of Meyer lemons with parsley, shallots, and white wine so it cooks gently and absorbs all of the delicious flavors of the aromatics.
Skinny Scoop: Fish is best eaten when it is really fresh, so you should buy it from a fishmonger who knows his wares. If it arrived that morning, good—get it. If it's from yesterday, don't even bother. Another helpful hint is that if the fish smells "fishy," it's because it's old.
— Gina Homolka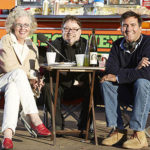 ON-DEMAND: Listen to Faith and Gina talk about this recipe, as well as many others that'll inspire your weeknight meals, plus breakfast and dessert recipes—all are either super quick or made in the slow cooker. Please support The Faith Middleton Food Schmooze® and all of WNPR's programming with a pledge of $11 a month; we will send you Gina's  inspiring cookbook, Skinnytaste Fast and Slow with our sincere thanks. Make your pledge now.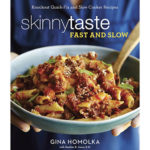 Reprinted from Skinnytaste Fast and Slow. Copyright ©2016 by Gina Homolka. Photographs copyright ©2016 by Helene Dujardin. Published by Clarkson Potter/Publishers, an imprint of Penguin Random House, LLC.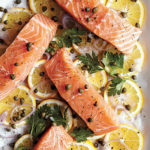 Cut 2 pieces of parchment paper about 12 x 15 inches. Place them into the slow cooker lengthwise, one on top of the other, to create a sling that will make it easy to remove the salmon later.

Slice 2 of the lemons into 1⁄4-inch-thick slices. Cut the remaining lemon into 4 wedges and set aside. Arrange the lemon slices in a single layer along the bottom of the slow cooker on top of the parchment. Top with the parsley sprigs and shallot slices. Pour in the wine and just enough water to get the level of the liquids even with the lemon, about 1⁄4 cup.

Season the salmon with the salt and pepper to taste. Place the fish onto the lemon slices.

Cover and cook on low for 1 to 1-1⁄2 hours, until the salmon is opaque throughout.

Using the parchment paper sling, transfer the salmon to a baking sheet. To serve, gently transfer a piece of salmon onto each of 4 plates, discarding the liquid, lemon, and herbs. Serve topped with the capers and with the reserved lemon wedges for squeezing.
Nutritional information on this recipe:
PER SERVING 1 piece
CALORIES 183
FAT 7.5 g
SATURATED FAT 1 g
CHOLESTEROL 62 mg
CARBOHYDRATE 3 g
FIBER 0.5 g
PROTEIN 23 g
SUGARS 1 g
SODIUM 207 mg