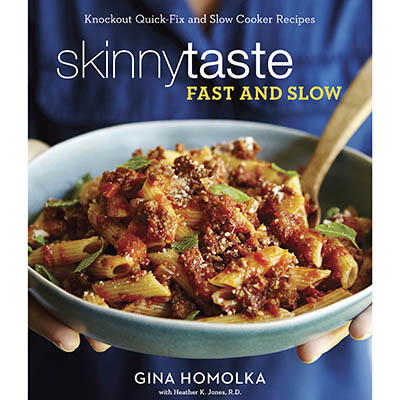 Gina Homolka, founder of Skinnytaste.com, gets it. She really does. We want to eat healthfully, but nobody here is going to do so at the expense of flavor. We're just not into depriving ourselves. Oh, and we're busy folks who live in the real world, too. What does that all mean? It means Skinnytaste Fast and Slow is a book we can really get behind.
ON-DEMAND: Listen to Faith and Gina discuss many of the recipes in Skinnytaste Fast and Slow and learn how to get the book as our thank you gift when you support The Faith Middleton Food Schmooze®.
Skinnytaste Fast and Slow includes 140 recipes—90 quick and easy recipes, and 50 comforting slow-cooker recipes. Quick weeknight meals? Meals we can throw in the slow cooker and go about our lives? We love this! And right about now, we're loving the "skinny" part of the Skinnytaste philosophy. Gina has found ways to reimagine everyone's all-time favorites like Chicken Cacciatore, Beef and Bean Chili, burgers, and pizza—even brownies and banana bread—in ways that are calorie-friendly. Yes, simple swap-outs and boatloads of fresh vegetables play starring roles in these recipes. Ingredients that tend to sabotage our New Year's resolutions like cheese, oils, and butter. . .they play only supporting roles; acting as flavoring agents.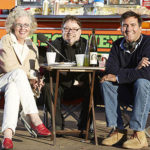 When Gina's book landed in our office, we knew we had to share it with you. That's why we're offering it up as our gift to you—when you make a gift to us. Support our show by making a donation of $11 a month, and we'll send you this book—a book we are so sure you'll want to cook your way through, as we're doing. We started with Gina's Pizza-Stuffed Chicken Roll Ups (I mean, come on! pizza stuffed chicken!) and we're hitting her Slow Cooker Triple Almond Flourless Brownies next.
Get a taste of this book:
Pizza-Stuffed Chicken Roll Ups
Greek Chicken Sheet Pan Dinner
Slow Cooker Chocolate Swirl Banana Bread
Salad Pizza
Slow Cooker Poached Salmon with Meyer Lemon, Capers and Parsley
Slow Cooker Chicken Cacciatore