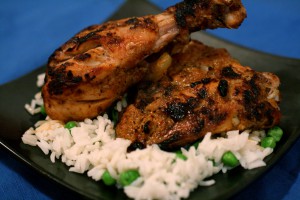 The best Indian food involves hours of work and a million ingredients, almost always worth the time and effort. But two years ago we stumbled on a simpler version of Tandoori Chicken, and loved the result. (The tandoor is the wood-fired clay oven used by Indian cooks to make moist meat and beautiful breads.)
The dish calls for a number of spices, which could cost a fortune, though they don't have to. Faith goes to a health food store to buy her spices in the amounts she needs from bins, at a fraction of the cost. This dish isn't hot, unless you choose to boost up the chili powder; we don't because we'd rather get a reference to heat without the tongue-burning experience that can obliterate other flavors.
What's clever about this recipe is that the home grill is used to mimic the tandoor oven by using the lid and indirect heat.
To prepare marinade, place first 10 ingredients in a blender; process until smooth. Pour into a large zip-top plastic bag. Add chicken; turn to coat. Marinate chicken in refrigerator at least 4 hours or overnight.

To prepare raita, combine 3/4 cup yogurt, the cucumber, chopped mint, ground cumin and salt.

Remove chicken from refrigerator, and let stand at room temperature 45 minutes.

Prepare grill for indirect grilling. If using a gas grill, heat one side to medium-high and leave one side with no heat. If using charcoal grill, arrange hot coals on one side of charcoal grate, leaving other side empty.

Remove chicken from marinade, and discard remaining marinade. Place chicken on unheated part of grill rack coated with cooking spray. Close lid, and grill 90 minutes or until a thermometer inserted into meaty part of thigh registers 165°, turning chicken every 20 minutes. Serve with raita.