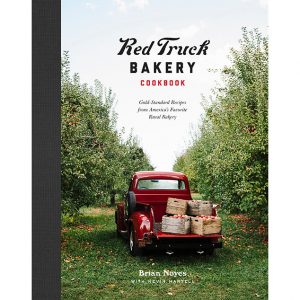 This crust is almost identical to our Classic Piecrust, which is featured in many of our sweet pies. However, this version swaps the sugar and citrus zests for dried sage (you can substitute fresh rosemary), which complements the fillings in our quiches and savory pies.
Use for Red Truck Bakery's Barnyard Breakfast Pie.
— Brian Noyes
Excepted from Red Truck Bakery Cookbook, by Brian Noyes © 2018. Published by Clarkson Potter Publishers. Photos © 2018 by Andrew Thomas Lee.
Servings:
10-inch pie crusts
In the large bowl, whisk together the flour and salt. Add the chilled cubed butter and shortening; cut the butter and shortening into the flour mixture using your fingers, two knives, or a pastry blender until broken down into pea-sized pieces. Add the egg yolk and the sage and mix until combined. Gradually add the cold water and mix until the dough comes together. If it's crumbly, add a bit more water 1 teaspoon at a time. If it seems sticky, add a bit more flour.

Divide the dough in half and form it into two discs. Wrap each disc in plastic wrap or put them in individual freezer bags, and chill for 30 minutes before use, or freeze the dough for up to 1 month, thawing for 2 hours in the refrigerator before using.