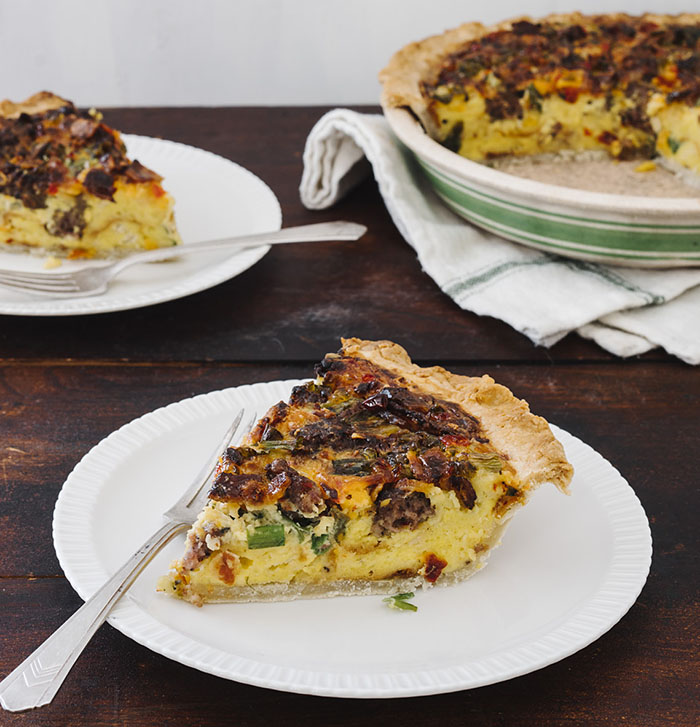 For this hearty breakfast pie, we start by crumbling up leftover Rise and Shine Biscuits and placing them in the bottom of a piecrust with big chunks of sausage and hearty bits of smoked bacon. We drown it all in an egg mixture amped up with Aunt Darla's Smoky Pimento Cheese and bake until the top is golden brown and puffed up. It's the perfect fuel on weekend mornings before hiking in the Blue Ridge Mountains or tubing down the North Fork of the Shenandoah River.
Sub-recipes:
Red Truck Bakery's Savory Pie and Quiche Crust
Aunt Darla's Smoky Pimento Cheese
Rooster's Pepper Jelly
— Brian Noyes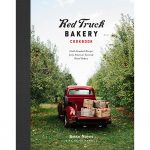 Excepted from Red Truck Bakery Cookbook, by Brian Noyes © 2018. Published by Clarkson Potter Publishers. Photos © 2018 by Andrew Thomas Lee.
Preheat the oven to 400°F.

Roll out the pie dough into a 13-inch round, fit it into a 10-inch pie pan, trim, and crimp the edges.

Scatter the toasted biscuit pieces into the pie shell and sprinkle evenly with the scallions. Add the sausage and bacon.

In a medium bowl, whisk together the eggs, half-and-half, salt, black pepper, and red pepper flakes. Add the pimento cheese and whisk to combine, then pour the mixture into the pie shell, making sure not to fill it past the bottom of the crimped edges. With a spoon, quickly ladle the melted pepper jelly across the top.

Bake for 20 minutes. Reduce the oven temperature to 375°F, turn the pie pan, and bake for 10 to 20 minutes more, until the top is golden brown and the egg mixture is firm. Let cool before slicing and serving.