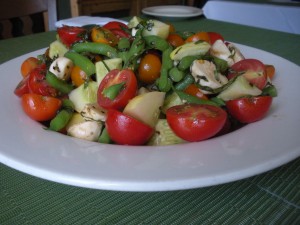 The sweetness of a summer ripe tomato combined with the subtle saltiness of fresh mozzarella is heaven.

In a large mixing bowl toss together the red cherry tomato halves, yellow tomato halves, mozzarella, chopped cucumber, and blanched green beans. Next add the sliced basil leaves, salt, black pepper, balsamic vinegar, and extra-virgin olive oil. Mix well and taste. Adjust seasoning if needed with salt and pepper.

Serve immediately with crusty bread and chilled white wine.