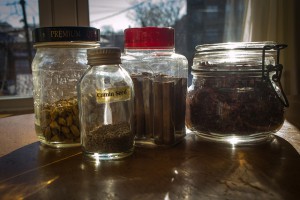 When this recipe was placed here on The Food Schmooze site, the Mexican drug cartels were playing politics with lime prices, making lime prices skyrocket. That's why we were delighted to find such a fabulous Persian recipe calling for dried lime or lemon powder instead of fresh limes. You can get this online, of course, but also at a Middle Eastern grocery store. The powder is floral and remarkable. Many times Faith prefers it to real lime in recipes.
You can use veal, chicken or lamb chops for this recipe, but make extra pesto. What a gift to give each guest a small plastic container of this pesto as they leave to go home. (If there is any left.) We say spread it on everything.

Preheat oven to broil. Spray 2 large baking trays with canola oil. Set aside.

Using a small food processor, mix all pesto ingredients together until fully combined.

Place the chops on the baking trays and spread pesto on both sides. Reserve some pesto for garnish. Broil the chops for 8 minutes. Carefully remove the pan from the oven, flip the chops and broil 5 more minutes or until nicely browned.

Serve on a platter, garnished with some of the pesto sauce, black sesame seeds, and fresh parsley.