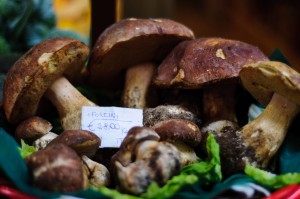 Betty Rosbottom is masterful in the casserole department, elevating this one-pot dish to something worthy of any company you're serving. Her recipes are both elegant and comforting, not an easy combination to achieve. We especially love Betty's Venetian Chicken thanks to a blend of dried porcini powder, sherry, curry, prosciutto and Italian fontina cheese.

Generously butter a 9-by-13-inch or another shallow 3-qt baking dish.

Put the porcini mushrooms in a strainer and rinse under running water to remove any grit. Then put them in a medium bowl and cover with 2 cups of boiling water. Let stand until softened, 15 to 20 minutes. Strain the mushrooms and soaking liquid over a bowl through a strainer lined with a paper towel, pressing down on the mushrooms with a spoon to extract as much liquid as possible. Reserve the soaking liquid. Coarsely chop the porcini and set aside.

Place a chicken breast on a work surface and, with a sharp knife held parallel with the surface, cut the breast in half horizontally. Repeat with the remaining breasts. You will have eight chicken pieces. In a shallow dish, whisk the curry powder and olive oil together. Dip each breast into the oil and coat well on both sides.

Place a heavy, large frying pan over medium-high heat. When hot, add as many chicken breasts as will fit comfortably in a single layer. Cook until lightly browned on both sides, turning several times, 5 to 6 minutes total. Remove the cooked chicken to the baking dish, and arrange in a single layer. Continue until all the chicken has been sautéed. Season the chicken with salt and pepper.

Melt the butter in a medium frying pan over medium-high heat. When hot, add the sliced brown mushrooms and cook, stirring occasionally, until browned and no liquid remains, 5 minutes or more. Season with 3/4 teaspoon salt and several grinds of pepper. Add 2 tablespoons of the sherry to the pan. Cook until all the liquid has evaporated, about 1 minute. Add the reserved porcini, 1 cup of the reserved soaking liquid, the cream, and the remaining sherry. Cook, stirring, until the sauce thickens very slightly, about 5 minutes.

Top each chicken breast with a slice of prosciutto, cut to fit. (You may have some prosciutto left over.) Sprinkle an equal amount of fontina cheese over each prosciutto-covered breast. Pour the sauce over the chicken. Cover with plastic wrap and leave at cool room temperature for 1 hour to develop the flavors. (To make the casserole a day ahead, cover and refrigerate the chicken, omitting the resting time. Bring to room temperature for 30 minutes, and continue with the recipe.)

Arrange a rack in the middle of the oven and preheat to 400°F. Bake, uncovered, until the cheese has melted and the chicken is hot all the way through, about 20 minutes. Remove from the oven and sprinkle with the parsley before serving.