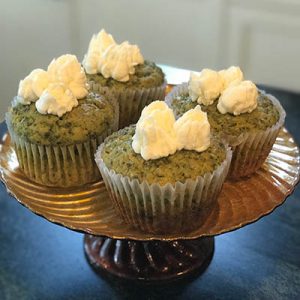 There's a lot more to farm stands these days than berries and veggies. The best ones offer up baked goods too! And, honestly, can you think of a better use for kale? These were Chris Prosperi's favorite cupcake during a recent visit to White Gate Farm in East Lyme, CT.
Recipe provided by Pauline Lord, owner of White Gate Farm.
The cupcakes were baked by chefs Paco Rodriguez and Lesley Moore.
Photo courtesy of Pauline Lord.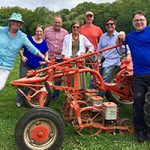 Read about our Food Schmooze® road trip to White Gate Farm and listen to the show we recorded in the farmhouse with special guests Pauline and farm manager Kent Girty.

Preheat oven to 325°F. Insert cupcake liners or grease a muffin pan.

Tear kale leaves into bite-sized pieces and boil or steam for a few minutes until tender. Refresh in cold water, drain and puree (it will still be a bit stringy). Set aside.

In a large bowl, cream together the butter and sugar until light and fluffy. Beat in the eggs, one at a time, and then beat in the kale, vanilla, orange juice and zest.

Sift in the flour, baking powder and salt and stir to gently combine.

Fill the muffin cups 3/4 full with the batter and bake for 20 minutes or until an inserted skewer comes out clean. Allow to cool in the tins for 10 minutes then remove and allow to cool completely on a wire rack. Frost with the icing once cooled.
In a large bowl, cream the butter until fluffy. Sift in the powdered sugar and beat until thick. Add enough orange juice to make it a frosting consistency. Store in the fridge until ready to frost the cupcakes.